Voice of Experience: Rebecca Marques, Shearman & Sterling LLP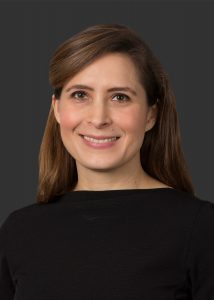 By Cathie Ericson
When you're first launching your career, you often feel like an imposter and can't envision yourself in the senior position where you will eventually end up, points out Rebecca Marques, newly-elected partner in the Capital Markets practice at Shearman & Sterling.
Even though it's fun to look back and think, "If I knew then what I know now," that 20/20 vision wouldn't really change anything, she says. "So much of what you learn is rooted in the process of growing up," she says. "You show up at a law firm as your first proper job and you're just 'young,' but there's no way to skip over that confidence-building part, which only comes with experience."
For Marques, part of that questioning was rooted in the common archetype you see of a "cookie cutter" mold of a successful executive that many young professionals, especially women, often seek to emulate.
"There's the chance you might be more successful right off the bat if you conform to that, but it's not necessarily best for everyone," she says. In fact, being authentic to herself and her own style is what has contributed to Marques' success through the specialty she settled on and the career trajectory it set her on.
Finding the Niche That Suited Her Personality
An English and Brazilian national, Marques attended college and law school in the United States and joined Shearman and Sterling's New York office immediately after law school. She chose capital markets for her summer rotation and decided it was the place for her, entirely based on the personalities of the people working there. "There were some characters in capital markets, and I figured that meant I would be welcome there," and indeed it ended up being the perfect fit.
Marques appreciates the client-facing and entrepreneurial aspects of her specialty, because it allows her to really get to know a business. She notes that she probably wouldn't have lasted if she spent her days in front of a screen, churning out papers. "Although the job is legally based, there's a large element of getting to understand the business, which is unique to capital markets," she says.
After three years in the New York office, she transferred to London to work in a location where she had ties and wanted to grow roots. When she arrived in London, she was the only female in her group, but she has been able to see that change entirely since she's been there.
While she's delighted to have been elected to partnership starting just this January, for her it's not just about the title, but more the recognition it offers that you're succeeding in your chosen career. "Even if you know your achievements are being recognized, it's exciting to have everyone standing behind you officially," she says.
Transferring Her Skills to Making a Difference
And what brings her even more joy than being named partner is the variety of pro bono work she's recently undertaken that has been applicable to her particular skills and expertise. This year the social enterprise assignment she headed, which entailed deploying micro grids to deliver power in remote areas of Africa, earned her the title of Lawyer of the Year for her pro bono work at the prestigious 2017 Thomson Reuters TrustLaw Awards.
"I felt like I was at the Oscars," she says, as it was the last award given of the night, and everyone involved in the nomination process had been pre-interviewed for a video prepared in advance. "I had no idea I had won and then realized they had interviewed the client who had nominated me."
While Marques sees her job as one of the most rewarding and fulfilling parts of her life, she says it's important to find other diversions to fill the gaps, as it's impossible to expect a job to meet all your needs. "In addition to the pro bono work, which I love, I believe that hobbies and other interests are important to help round out your work and life balance."