Why Women Are Crucial in Design and Tech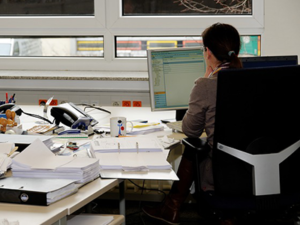 Guest contributed by Sara Wachter-Boettcher
I was chatting with a woman at a tech conference a while back about sexism in the industry. She rolled her eyes: "Oh, have I got a story for you." A couple years ago, she was working at a large company's Silicon Valley innovation center. She was excited. Her company was partnering with a fashion brand to produce a new "fashion-forward" women's smartwatch, and she would be leading the design research. But when she walked into the kickoff meeting, her stomach sank: she was the only woman at the table.
While the men droned on about their wives, using them as proxies for the "female market," she hatched a research plan to find out what women actually wanted from a smartwatch. More than a thousand respondents later, she brought her results back to the group. The top insight: women really wanted their smartwatch to help them discreetly keep an eye on things during meetings. But the men wouldn't listen: women want apps for shopping, not work.
"I felt like I was in an episode of Mad Men," she told me.
Eventually, the project stalled, and the brand brought in a celebrity to design the smartwatch. It flopped. "It wasn't based on needs; it was based on stereotypes," she said.
Her story is over the top, but it's not rare. While writing my new book,Technically Wrong: Sexist Apps, Biased Algorithms, and Other Threats of Toxic Tech, I saw plenty of products that left women out (like Apple's Heath app, which didn't bother to include a period tracker for a full year after it launched). The companies behind those products? Mostly male.
Meanwhile, I also found loads of research confirming what I'd long felt: that diverse teams perform better because they spur new thinking rather than encourage people to rely on the same stale perspectives. As a result, they're more likely to develop innovative product ideas, and less likely to rally around incorrect assumptions.
That's why we need more women—and people of color, and LGTBQ people, and people with different abilities, and so much more—working on design and tech at every step of the process, from deciding what to make in the first place to testing products before they go to market.
But as the smartwatch researcher found out, it's not easy being a woman in tech: we're routinely passed over for funding, pushed out by harassment, and even subjected to demoralizing pseudoscience claiming we're just not as good as men.
So how do you create a thriving career, do your part to change the system, and avoid burning out in the process? Here's what I've learned during my career, and in my research talking with dozens of women across the industry.
Make "microchanges" that matter
Diógenes Brito didn't mean for it to be a big deal when he used a brown hand for a new graphic at Slack, the group-chat platform. But it was—because people of color so rarely see their skin tones reflected in the world (just think about all the so-called "flesh-colored" Band-Aids on the market). "It may seem like a small thing," tweeted Kaya Thomas, a college student studying computer science. "But when you see graphics over and over excluding your skin color, it matters."
Seemingly minute design or tech choices—like including women in photos depicting technical teams or removing unnecessary binary gender questions from forms—can make a big difference to users, and can even make a company's culture more aware and inclusive over time. And since they're small—as small as depicting a brown hand in an illustration—they're the kind of thing you can often slip in without getting pushback.
Oh, and Kaya Thomas? She graduated in May. Now she's an engineer at—you guessed it—Slack, where I'm sure she'll shake things up even further.
See what others have missed
You know how dating apps used to be cesspools of unsolicited porn? Yeah, okay, so that's still largely true. But now there are tons of women-run apps offering an alternative. There's Bumble, of course, founded by ex-Tinder exec Whitney Wolfe. Disillusioned by harassment (including from one of her fellow Tinder founders), Wolfe set out to solve some of heterosexual online dating's endemic flaws by doing something no one had thought of before: only allowing women to make the first move.
Or, there's Coffee Meets Bagel, designed as an alternative to "swiping your life away." Frustrated by the constant ghosting of other apps, the founders—sisters Arum, Dawoon, and Soo Kang—designed their product to give users fewer, better matches each day, and to discourage flakiness by only showing women a short list of men who'd already liked them.
While none of the new women-run dating apps is perfect (for example, many still don't serve the LGBTQ community very well), they're all exploring new ground—ground traditional male-run apps never would have considered.
Serve the underserved
Tech has also enabled a bevvy of new fashion startups, and some of the most exciting examples are in a space that used to be a dead zone: plus sizes. Today, loads of women are helming companies that—finally—are focused on combining on-trend and luxury pieces with more inclusive sizing options.
One particularly innovative option? Universal Standard's "Universal Fit Liberty" policy where customers can exchange a product within a year if their size goes up or down.
While getting funding for a fledgling business still isn't easy, the world is starting to wake up to the fact that designing for women isn't a niche case. It's an underserved audience­­­—one that controls most of the purchasing decisions in the United States, and that's increasingly fickle about where it spends its money. The more we push for inclusion—and stand up to all the sexists, bad bosses, and other toxic influences out there—the more opportunities we'll have to make sure that the tech products of the future serve all of us.