Mover and Shaker: Noelia Torres, Market Development Lead, WEX Europe Limited
By Cathie Ericson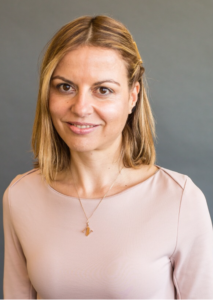 Although WEX's Noelia Torres began her career as a journalist, then as a public relations practitioner for  large consumer brands, her career has been linked to the payments industry for the past 16 years.
She made the move when she realized that although she enjoyed advising clients on strategy, she yearned to see how it all played out and decided to try the client side. She began her finance career at Barclaycard, an independent division of Barclays, in Dublin and then entered what she calls "the exciting world of payments," where she enjoys contributing to the constant evolution and progress in the payments world.
Over the years she has worked in a wide variety of different markets and geographies, starting in a local market in Spain and then moving on to WEX initially with responsibilities throughout Europe and now she embraces her new challenge of working in global strategy.
Right now Torres is focusing on new ways to innovate and simplify the ways that companies make and receive payments, using a design thinking approach that employs a creative process to solve business problems. . She describes herself as passionate about the methodology because it always begins by looking at people and their unmet needs.. "We have to remember we are always designing for people: You have to understand what each customer wants and needs and how they behave and think when they're interacting with products or services."
Teamwork is Goal Number One
When she first entered the corporate world, she expected it to be full of uncertainty and overly competitive, organized in silos where everyone had their own specialization as a sole focus. While her expectation of embracing uncertainty came true, she has since seen that over the years much of the corporate world has evolved, particularly the team orientation. "It's not about just my sales volume or my meeting," she says, but doing the best for everyone.
In fact, she considers her ability to build teams as the professional achievement she is most proud of so far — bringing disparate teams together to work toward the same goal. "No matter what department we are in, we want to discover our customers' problems and solve them," she points out.
Over the years that has been one of Torres' biggest learning moments, that the most relevant asset a company has, no matter the size, is their team. She learned that early on when she worked for a Spanish savings bank, Caixa Galicia, with a team composed of only eight people who covered the entire spectrum, from consumer to business to government accounts.
While other, larger companies might have devoted at least 100 people to covering that breadth, her firm wanted to play in the big leagues and strove to provide supreme experience even with a smaller team. "I learned early on and have taken this lesson with me that if you want to achieve a goal, it's all about the team that surrounds you," she says.
In fact, that is the first "ingredient" in her professional recipe for success – knowing that working in silos or isolation is ineffective. Secondly she encourages others to listen a lot and then go outside the company to listen more. "Don't get trapped inside your company; when you go to your customer and ask 'why,' you can gain insight that will help you improve." And finally, she  adds "Never give up. I know that we can get better;" as another touchpoint : A leader's function should be to transform the team to improve.
Opportunities to Learn Are Everywhere
Torres says that both sponsorship and mentorship have been crucial to her success, helping guide her professional career, but also providing direction in her personal domain. "My sponsor in Europe believed in me from the very first day and was key in opening the doors to my most recent move to the United States," she says.
She names Carina Szpilka, former CEO of ING Direct, as her role model. "She is not only a super charismatic and authentic woman, but she was foundational in revolutionizing banking culture by putting the customer at the heart of  business decisions," Torres notes. But mentorship doesn't have to just come from the top; she notes that it's important to remember that you can always learn from everyone you are working with, by finding people on your team who are great leaders or motivators.
WEX, in particular, has been empowering because of the many example of women in key strategic positions throughout the company, which has been inspiring to Torres throughout her career there.
And finally, Torres knows that you can learn from the world around you. She and her husband have a motto that "the world is a book and those who don't travel read only one page." They are eager to read the whole book,  lived in different countries in Europe and now moving to the United States , learning about people and culture.