Ask Yourself These Questions before Accepting That Job Offer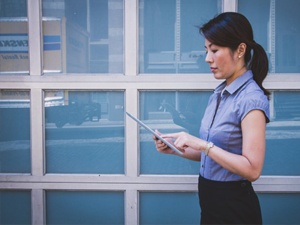 How exciting to get a new job offer! Perhaps you have been job searching for a while. Maybe you are relieved to finally secure a position that seems worthy of your talent and experience. After months of submitting resumes online and the seemingly never ending series of phone interviews that go nowhere, getting an offer is validation that you are still marketable.
Of course, our first impulse is to take the job. Yet, there are many things to consider when you receive a job offer at a new company. It's common to focus first on the compensation and benefits package, the new title and responsibilities. We can get distracted by all this. But if you are ambitious and forward thinking, you also need to consider what the new company can offer YOU in terms of your long range career goals and potential advancement.
Here are some questions you should ask when evaluating a new company:
Are there women in senior executive roles?
One of the first things to look at is the organizational chart to determine if there currently are women in leadership roles. If there is some representation of women at a high level, where did these women come from? Were they promoted from within or recruited from the outside?
The answer to this question is important in order to determine if the company is invested in building a pipeline of women and committed to nurturing that pipeline to leadership roles.
Do senior women have P&L responsibility?
Many companies will boast that they have promoted women to assume leadership roles, but when you take a good look at the organizational chart you may discover that these positions do not come with any fiscal responsibility. In other words, the company may have gendered roles even at the senior level. A lack of female role models has been noted to be an obstacle for high achieving women.
Do women have power and influence?
What role do women play in the overall operations and strategy of the company? Do they have any involvement in setting the direction of the company? Are there women on the Board of Directors? Do women at all levels sit on committees that have a voice with senior management?
Does the company invest in developing women leaders?
Is there a women's network? If so, is it supported by senior management? Does the initiative have a reasonable budget? The budget is a big clue! Many of these programs lack any financial support which most likely indicates the company is paying lip service to supporting the advancement of women. Very little can be accomplished without money or executive sponsorship.
Does the company have a program for high potentials?
If so, what is the representation of women in this program? Are the criteria for inclusion in the program clearly defined? Are women moving to leadership positions once enrolled in this initiative?
Does the company have a formal sponsorship program?
Once again, it's important to determine if women are included in sponsorship programs because these programs provide the type of advocacy and support that lead to promotions. What is the result of their sponsorship? If there isn't a formal program, are women being sponsored or are they stuck in the mentorship trap? Speak with HR to determine if sponsorship for high potential women is recognized as important and actively promoted with senior leadership support.
Does the culture of the company align with your values?
This question is perhaps the most important one of all. Does the overall culture of the organization align with your core values and your ambition? The culture can support you or stifle you and unless you take the time to meet with people and ask questions, it is extremely difficult to see what's happening behind the scenes.
You can determine quite easily if there are flexible work options and other policies that are important to your ongoing success by looking at the employee handbook or consulting with human resources. Answering these questions will certainly help you to determine if the company is supportive of high achieving women and working mothers.
But on a very basic level, you should answer this question for yourself: What type of culture will best support my ambition? If you want to create visibility and credibility for yourself, are you more likely to succeed in a hierarchical structure or a consensus driven organization, a conservative or cutting edge culture? Where will you be able to voice your opinion and make a difference?
Every company has its unique culture and it's dangerous to stereotype based on the industry; all the more reason to take the time to figure out if the organization aligns with who you are, how you like to work, and where you want to go with your career.
The bottom line here is that our eagerness to take a job offer in a new company may seem like the best move to make. But before you accept the offer, consider whether or not the company is the right company for YOU.
Bonnie Marcus, M.Ed., is the President of Women's Success Coaching, where she helps professional women advance their careers. She is the author of THE POLITICS OF PROMOTION: How High-Achieving Women Get Ahead and Stay Ahead (Wiley).
Guest contributed by Bonnie Marcus