Mover and Shaker: Renata Caine, Vice President, Virtual Payments, WEX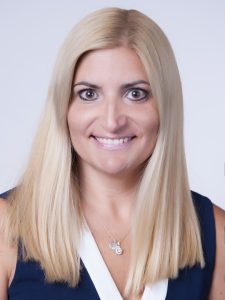 By Cathie Ericson
"I used to think that showing weakness was a sign of inexperience, but by focusing on my confidence I can see that failure is a part of every professional," says WEX's Renata Caine. "I know that imperfection is authentic, and that helps me promote an environment that allows failure when it's used as a learning experience."
Highlighting a Team Dynamic Internally and Externally
Although WEX is not technically her first job, Caine says it's where she feels that she grew up professionally. "The virtual payments line of business is very entrepreneurial and fast paced, which gives people the opportunity to do things they haven't before. I have learned a lot in a short period of time," she says.
Her career progression began as an individual contributor, and she knew she loved building relationships; she now manages a sales and marketing team responsible for the acquisition and support of external customers. "To me, building an internal team is not so different to supporting external customers." I feel that I've found exactly what makes me happy."
One of the best parts of her current team dynamic is the respect they have for one another. The relationships between the team members allows for some good-natured fun: They never miss an opportunity to laugh with one another.
And that is the professional achievement she is most proud of: Working alongside her team and bringing value, building mutual respect and watching them grow, surrounded by people who have the same goals and sense of purpose. "Right now I'm leading a team that's at full capacity and building them out to know their role in continuing to create a high-achieving cohort. Together we're all working toward motivating each other and fostering success working together."
When she first entered the corporate world, she thought there might be a culture of "every man for themselves," and while that might be the case in some places, she finds that people at WEX are always happy to help one another. "Relationships are the core of our business and I see that played out within WEX and across customers as well," she says. "Every aspect of building a team and working with customers and prospects has been relationship-oriented."
In fact, over the years, she has appreciated the transparency that her clients have shared about their business and what they can accomplish together. This has allowed her to get glimpses into the inner workings of other companies, creating a better combined strategy.
Finding Success Through Modeling Others
Caine has had unofficial mentors throughout her career; some began organically and helped all along the way, while others came along during certain parts of her career and helped her grow in a specific situations or roles. "I've taken bits and pieces from so many people and that has molded me into what I've become," she says.
By participating in WEX's Integrated Leadership Development Program in May 2015, she allowed herself to admit where she struggled as a leader and see where others saw her strengths and weaknesses. "It was a valuable experience because as a group, we would celebrate what we did well," Caine says. "I learned that my perception of myself doesn't always match others' perceptions of me, which forced me to be more self-aware. This, over time, empowered my development."
But she hearkens back to her mother as her original role model. "Growing up and watching her work every single day, she seemed to have achieved balance with career, managing a household and raising two successful kids, never complaining, and always getting it done," she says.
That ethic is mirrored in her work today, where Caine says that her success has come from hard work, combined with focus and commitment and letting others know she's dependable and available to them.
Seeking Balance With Family
Caine finds comfort in a balance that supports work and home life — sometimes one gets more attention than the other, which is always a work in progress.
"As passionate as I am for my contribution to WEX, my passion for family exceeds it," she says, of her son and daughter, ages seven and six. "I want them both to know equally that they can achieve whatever they set out to," she says, adding that the times she's away from home are opportunities to share the wonders of the world and diversities of culture. "I want them to appreciate all there is to find, and I hope it propels them to seek adventures in their own lives."