Raising Aspirations: When I Grow Up I Want To Be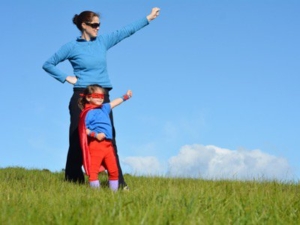 By Nneka Orji
What do you want to be when you grow up? For some of us, this is a question to which we haven't yet arrived at an answer. However as children, many of us had a view albeit evolving as we progressed through teenage years and then young adulthood; an engineer, a ballet dancer, a pop star, an astronaut, or perhaps the most popular childhood dream jobs in the UK – a doctor or nurse (according to a YouGov survey, 1 in 10 adults in the UK aspired to be a doctor or nurse in their childhoods, followed closely by a footballer and teacher). The sky is the limit…but is this really the case for everyone? Or do gender and societal expectations start limiting aspirations in childhood? The short answer – despite a notable shift in behaviours – is yes.
The London School of Economics and University of Madrid published research into how parental behaviours influence children's perception of gender as they go through preference formation. The study found that children's motivation and self-esteem, and thereby their job preferences and ambitions, are greatly influenced by parental "sex-typical behaviours" and their socioeconomic resources. Those children who deem only certain jobs appropriate because of their gender are more likely to go into sex-typical careers, however girls with high levels of motivation and both boys and girls with high self-esteem were both more likely to go against societal norms and choose sex-atypical jobs. It doesn't stop there; girls who aspired and therefore joined stereotypically female jobs were more likely to earn less because of the lower wages which persist across female-dominated roles.
These findings have implications on our approach to addressing gender parity and those who continue to push for parity in the workplace have much to consider. Is there merit in shifting more focus and investment to the "preference formation" stage when prospective employees are in the process of developing their preferences and aspirations, rather than later when aspirations are almost fully formed?
Some businesses are already actively engaging with the younger generation through initiatives with schools – addressing gender equality as well as social mobility. Organisations such as Inspiring the Future and Teach First are connecting professionals with schools and teachers to facilitate this dialogue around aspirations, and providing a platform for children to engage with role models – a critical factor in shaping aspirations. MIT economist Esther Duflo whose research found that role models had a direct impact on ambitions, described the role model effect in an interview: "Seeing women in charge persuaded parents and teens that women can run things, and increased their ambitions. Changing perceptions and giving hope can have an impact on reality."
Introducing role models into the lives of young children doesn't just come through family and professionals connected formally. We don't always have direct access to role models who can inspire and encourage us along the journey, however entrepreneurs Francesca Cavallo and Elena Favilli believe that storytelling can be an effective tool. Rather than being surrounded by the traditional tales of trapped princesses and saving knights, parents and teachers should be sharing real stories such as those in their book "Goodnight Stories for Rebel Girls", detailing the lives of past and present female role models – including Malala Yousafai and Serena Williams. Both girls and boys are able to see beyond the traditional sex-typical roles, and can reflect the stories and lessons from the successful women in their thinking as they develop their career aspirations and later into the workplace.
The power of storytelling in influencing and inspiring others has been widely discussed, but where possible, we must continue to provide platforms to give girls and women direct access to role models. A paper published by the Chartered Management Institute (CMI) in 2014 pointed to the need for a "role model revolution". Women continue to look for role models who inspires other, stands up for their beliefs, build confidence in others, make a difference to society, and demonstrate that they are able to overcome challenges. Acknowledging that no one person can provide all of this, 86% of the survey respondents were looking to develop relationships with more than one individual.
Yet only 55% of those surveyed by CMI said there are enough role models across their organisations and industries – even though 81% saw the benefits of role models in raising aspirations. CMI also asked survey participants to name their most inspirational role models; of the top 10 listed, only 2 were women and have now passed away (Margaret Thatcher and Mother Teresa).
We all know female role models exist and many of them continue to engage successfully with both women and men in the workplace and before. However we all have more to do:
Talk about your successful female colleagues and friends so others know they exist and the great work they do
Share these success stories with children and young adults by engaging with schools and local communities – waiting until they are 16 isn't benefiting anyone
Lead by example and put yourself forward as a role model – you too can inspire
This isn't an action list just for women; men also have a role to play – both in the workplace and at home. Assistant Professor Alyssa Croft's research found that those fathers who not only talked about gender equality but also demonstrated it in sharing household responsibilities were more likely to have daughters who aspired to more sex-neutral or male-dominated jobs.
If we truly want to remove the need for the multiple gender-focused diversity networks and reports, and see the end of headlines such as "without action gender pay gap won't close until 2069", we must each take responsibility for positively influencing how the next generation develop their aspirations so that the sky really is the limit.
In the words of Albert Einstein, "setting an example is not the main means of influencing others; it is the only means." It's not just about talking the talk, but also walking the walk.