Why You Need to Continue Learning – and How to Do It
Guest Contributed by Sarah Landrum
The brain is one of the many muscles in your body that needs regular exercise, and fitting consistent exercise into a busy schedule is a challenge for most working adults. While it may be difficult to find time for physical or mental fitness, it's well worth the effort.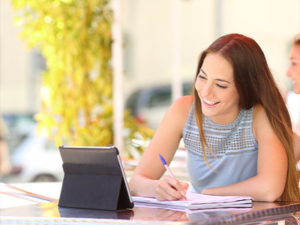 Benefits of Continual Learning
Continued learning offers many benefits, for both your cognitive abilities and your chances of advancing in your career.
1. 
Maintain High Performance
Just as well-made luxury vehicles need proper fuel to operate at their peak, you need to fuel the intellectual part of yourself with information and unique challenges.
When you're a part of a high-performing organization or team, it's not enough to be smart or a hard worker. Everyone around you is bright and dedicated to their job. Those are basic requirements for being a part of the team. In order to differentiate yourself, you must bring value on an ongoing basis.
People with great ideas and a track record for success get noticed as well as rewarded. What you learn from a course or workshop could be the impetus for your next contribution that will get you noticed as a key contributor to the organization. Positive recognition is one way to help you get a raise or promotion. 
2. 
Keep Your Brain Healthy
Research has found that 
brain cells form new connections
 every time you learn new information. Strengthening those connections by practicing new skills can do positive things for your cognitive ability. 
How to Make Learning Happen
Even though you're busy, there are ways to fit learning opportunities into your day. The payoff will be well worth the effort.
Develop a list of learning goals based on what skills you'd like to develop or interests you have and focus on them during nonworking hours. One of the advantages of technology is that you can learn when and where it's convenient for you, which is the beauty of online courses. A research study by the National Center for Education Statistics found that in the United States, 
92 million adults are enrolled in an educational program
. 
Having flexibility in your learning path is important for professionals who are already balancing demanding work schedules and personal commitments.
If you're planning to use learning as a way to advance your career, online learning is a great place to start. Think about what skills you need to gain or grow to move to the next level, then set a target for when you'd like to gain knowledge in that area.
2. 
Take Advantage of Corporate Programs
Many companies reserve a portion of their budget to support the ongoing development of their employees. This can take the form of tuition reimbursement, sponsorship for nondegree programs, conferences and/or memberships to professional organizations. Companies spent 
$130 billion worldwide on corporate training
in 2014.
Identify the area you want to develop and present it to your manager. You should determine how it will help you in your current position, help you contribute to the success of the company or help prepare you to take on additional responsibilities. 
It's easy for a manager to agree to an investment when they have a clear understanding of the return.
Also, look into what resources are available in-house. Does your company have a learning catalog where you can choose online or in-person courses? Is there a learning and organizational development team that creates content for employees to get in-depth understanding on a topic? Is there a person who is in the position you aspire to who could mentor you?
Explore all possibilities for learning channels so you can find a good fit to help you achieve your goals.

The opinions and views of guest contributions are not necessarily those of theglasshammer.com