Mover and Shaker: Chenelle Manley, Manager at National Professional Services, PwC US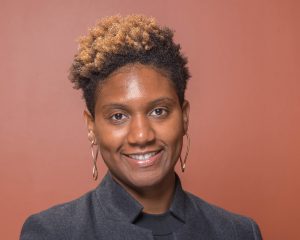 By Cathie Ericson
Sometimes the best career advice is the most enduring, finds Chenelle Manley, who took to heart basic lessons gleaned from her parents and grandparents that are simple yet effective. While you can learn all the client and technical knowledge you need, there are some lessons that can't be taught – being punctual, and having a positive, can-do attitude, for example.
"Have a good work ethic; but don't feel obligated to tell people you're working hard because it should be apparent," she says. Those enduring lessons have been the cornerstone of a successful career at PwC.
A Successful Career at PwC
"If I was talking to my 21-year-old self I would tell her that time goes by fast," says Manley, noting how fast her tenure at PwC has flown.
She began as an intern in the Detroit office after her sophomore year of college at the University of Michigan-Ann Arbor, as part of a diversity and inclusion program known then as PwC eXceed. She was one of the fortunate ones to receive both a scholarship and internship, which she counts as one of her best learning experiences where she could get to know everyone at PwC without the pressure of juggling client work.
She completed two more client service internships, and for the third, begged her recruiter to let her try out the Private Company Services group in New York. It ended up being the perfect fit and she joined in 2009, spending seven years there until this fall when she transitioned to the National Professional Services Group.
While she was previously primarily working on audits, now she will split time between two groups, since the National Professional Services Group supports engagement teams and helps with thought leadership on financial accounting standard setting. "I'm excited not only to meet new people, but also to increase my technical expertise. You don't always have the chance to flex specific muscles unless a client has those needs."
Rising With the Support of Others
When Manley first joined the workforce, she thought that as a black woman she might have to work harder, but never felt that pressure at PwC. In addition, she worried that in such a big firm, she might just be a number but over the years she's found that not to be true at all. "I feel I have always been supported both personally and in my career growth," she says, noting that her recent transfer came about because of robust partner support that allowed her to look into different opportunities.
Through this move she has learned that the partners truly are a resource. Initially hesitant to mention leaving her group since she admired her partners and clients and had great working relationships, she notes that the partners have been supportive of her path. "It's scary to raise your hand and want to make a change when you're doing well, but having those conversations with partners empowered me to take the leap – they were so much more helpful than I had envisioned. It was the first time I had activated that specific network."
As she realized, her partners would rather see someone make a great career move within the firm than leave. She says the bonds extend to the personal side as well; when she was looking for a new house, her partners offered her help and advice. "You expect that from friends and family but when it's from a relationship at work, it's surprising and appreciated."
Over the years she has been involved in a number of internal mentoring programs, including the Vanguard program that was particularly helpful when she joined it within her first month at PwC. She has seen the power that sponsorship can have, noting that it doesn't have to be loud but often moves in silence, when you have no idea that someone knows your work product or even your name.
"The mentor prepares you for your next role, but the sponsor champions you in areas that are out of your hands," she says. "I've had people help me land on the right engagements and take advantage of the right programs, which has furthered my development. That support is crucial to elevating your career."
When Manley first interned in New York, there was only one black female in her group in the metro office, a senior associate who had become a manager by the time Manley joined full-time. "She was a hard worker, highly regarded by partners and staff, with high integrity," Manley says. "Although we didn't frequently work together, she made a point of furthering our connection by sending emails to check in and see how I was doing. She was that person who was always there and offered her experience, and to me that is the best definition of a role model."
Currently pregnant with her first child, Manley looks forward to accessing PwC's working moms' groups, such as Mentor Moms, which is PwC's effort to match women returning from maternity leave with experienced mothers who are successfully juggling family and careers. She has seen the value that PwC puts in its working moms by providing support and resources that didn't exist even 10 years ago. "It used to be that in order to succeed at work, you had to have a crazy schedule that might infringe on family time, but that's no longer the case," she says.
Traveling, Volunteering and Spending Time with Family
With days about to be even fuller once her baby arrives, Manley appreciates the support she receives from her family. Avid travelers, she and her husband head out whenever they spot a great travel deal, and have recently visited Dubai, Italy and Costa Rica, among other locales. As Manley notes, PwC's policies make it very possible to take vacations. Manley is also an active volunteer and has fun assisting her husband, a civil engineer by day and a photographer by night, who often taps her as an "unofficial model."
"It takes me out of my comfort zone and is so different from my normal job," she says.