Voice of Experience: Angela Harrell, Senior Vice President, Corporate Responsibility, Voya Financial; President of Voya Foundation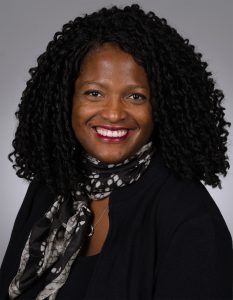 By Cathie Ericson
"Women sometimes feel like they must have all of the answers in a male-dominated industry," says Voya's Angela Harrell. Harrell believes that women tend to put pressure on themselves, and hang back, rather than apply for an assignment or position because they might not feel like they check every single box. Men alternatively may only have half the necessary skills, but apply because they plan to manage the uncertainties as they arise. "As women, we need to believe that we are capable and can achieve whatever we set our minds to do. Perfection can be the enemy of good," she says.
This translates to the board room or in meetings. "Women sometimes risk coming off apologetic or even discount their own expertise with phrases like, 'You may have already thought of this, but …' or 'This might not be a good idea, but ….' If you have an idea, sell it," says Angela. "If you are going to speak up, do so with conviction."
A Varied Career, Focusing on What Really Matters
After earning degrees in foreign affairs, Harrell expected to move into international work. Instead, after grad school, she joined a consulting firm and subsequently an executive recruiting firm, which relocated her to Atlanta. As a Coca-Cola Scholar, she had ties to The Coca-Cola Company and soon joined them as a project manager in the chairman's office, coincidentally replacing another Coca-Cola Scholar.
There she worked for the chairman and CEO, eventually moving into public affairs and communications, where she performed a wide variety of functions, including executive speech writing, media relations, internal communications, overseeing the annual report, the sustainability report and global photography. During her tenure she travelled extensively, including spending two years as an expat in South Africa.
Two years ago, she joined Voya Financial, where she heads up the corporate responsibility function and serves as president of Voya Foundation. "It is truly a culture that embraces corporate responsibility and all its facets, from ethics and integrity to sustainability and serving clients in a way that reflects our mission and values."
A Service Ethic
This ethos is evident throughout the company. While Voya employees donate to charities at what Harrell calls "an extraordinary level," employees are equally as generous with their time. Harrell oversees Voya's National Day of Service (NDOS), where 60 percent of the company's 7,000 employees (and 100 percent of its senior leaders) logged 13,500 volunteer hours this year.
For the event, employee-led committees across the country selected community projects for volunteerism efforts. Employees embraced the opportunity to interact with a diverse network of project participants, all in the name of serving the community. Harrell sees this effort as one that encourages ongoing volunteer behavior, since many people desire to help but are daunted at the prospect of diving in on their own. "Volunteering with colleagues to make a difference in a community infuses a different kind of dynamic into relationships and really reinforces the power of working together. In 2016, family members were invited to participate in the event."
Harrell has acquired a more holistic understanding of how corporate responsibility manifests in financial services, affecting everything from environmental, social and governance (ESG) influences on investment decisions to the importance of transparency and disclosures. "It's exciting to see businesses and individuals increasingly take ESG into financial investment considerations and think about the long-term impact on people and the planet," she says.
Imparting Lessons to the Next Generation
When looking over her career, Harrell notes that her achievements of real significance have involved empowering others. "I am proud of how my team members have stretched themselves, either to transform an existing program or to develop a new, groundbreaking one," she says. "When I stand back to consider my achievements, they center around enabling others to flourish by providing guidance and coaching as a partner, rather than being prescriptive," says Harrell. "If you give guidance and help clear the runway, people can really soar."
She adds that the best feedback she can get is positive input about a member of her team. "That is how you multiply and scale your effect," she says.
Part of this focus stems from her early years when she was self-reliant to a fault, determined to accomplish everything by herself. But that attitude can preclude opportunities to understand other people's perspectives and how they might approach things, which can influence you to think creatively. She soon realized that asking for help or input would allow her to grow, rather than reflect weakness.
"The kind of leader I want to be is the one who says, 'How can I help you?' but lets people succeed on their own," she says.
She also encourages young women to think about their own personal brand and how they want to be perceived by others. "It's not about being someone you are not. It's about making sure you are yourself in all facets of your life," she says. "If there is too much dissonance between who you are at work and who you are in your personal life, it can be exhausting. You can be your own true self and be successful."
She mentions one woman who said she was always feeling pressure to "not be too nice" and be less emotional, which was contrary to her personality. Harrell urged her to choose the path where she could be herself, while ensuring that she wasn't so nice that people would walk all over her.
She reminds senior women to pause and make sure they are continuing to build relationships with those around them, with a special recognition of more junior women.
"Part of our responsibility is to reach our hands down and bring others up with us," she says, adding that it can be informal and doesn't need to be overly time consuming, like connecting during lunch or for coffee. "We have to transfer some of the strength we have to those who are less experienced." As such, Harrell often mentors other women and is active with many of Voya's employee-led committees.
Noting that many women lead the community-oriented groups at each of Voya's sites, she says those roles allow women to hone leadership skills they might not otherwise obtain. She recommends women take advantage of leadership opportunities within employee resource groups or through the mentoring programs their companies may offer. They help women flex their leadership muscles and meet colleagues they wouldn't normally interact with often.
A Global Citizen
An avid traveler who has lived in eight countries and traveled to more than 50, Harrell is serious about her globe-trotting. She is an adventurer who immerses herself in different cultures. "I love learning about culture through the way people greet each other, their dress, food and all other nuances you experience when you get off the beaten path. It really fuels me," she says.
Equally intrinsic are the many experiences she can obtain right in New York. "The entire world is here, no matter what I want to see or eat or the language I want to hear," she says. "It's amazing to literally be surrounded by the world."
Save