Movers & Shakers: Stephanie Seugling | Director, Business Manager, TIAA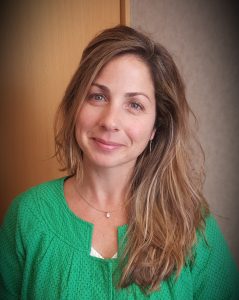 By Cathie Ericson
"What kind of day are you going to make it?" A powerful question that one of Stephanie Seugling's mentors asked her years ago, and the concept has stuck with her to this day. "It helps me know that whatever happens that seems out of control, you have to learn from the situation and choose how it will impact your day," she says.
Along the way this phrase has helped her plan for the "hiccups," knowing that no matter how she is feeling, she can work through the tough spots and help others through them as well.
A Career in Financial Services

Seugling has been fascinated with the financial services industry since her first job as a bank teller in college. It was also the only job in which she physically handled money, but it gave her an understanding of what money means to people – from helping those who needed to pay their mortgage or to assisting those who were excited to be sending a gift or depositing their first paycheck.
After college she joined a different financial services firm as an administrative assistant. From there she took several mobility moves around the firm, working in many areas from marketing to technology, from mergers and acquisitions to process design, before finally landing in treasury fulfillment as an operations executive. Transcending all roles, Seugling noticed a common theme – understand and then take action. She realized that she first needed to get a comprehensive understanding of the opportunities for improvement at hand, and then she needed to execute and deliver the solutions.
In her current role as a business manager for TIAA, Seugling continues to apply this principle. She manages the integration of people and processes for the IT infrastructure department at the firm. "You have to look at the current state and figure out how to blend two different groups coming together to optimize the future state."
When considering the professional achievement she is most proud of so far, one that sticks out is having been a part of a team that was recognized with patents for developing innovative work processes to enhance the customer experience. The team recognized the approach was novel and was solving a real problem. They conferred with a law firm who confirmed that they were the only ones taking that approach, and they were able to successfully file for patents.
Developing a Recipe for Success
Before joining the corporate world, Seugling leaned on the portrayal of work from TV shows and movies: Everyone wearing suits and dropping the final presentation on the boss' desk and thus earning a promotion the next day.
"Because of that view, I was one of those kids who couldn't wait to grow up and be in that environment; it seemed like it was a bit of an escape – like it was going to be easy," she says. Of course, the day-to-day isn't as rosy and perfect as the movies, she has found, but she has practiced finding the good in every day.
Along the way she also has learned her own personal recipe for success. She focuses on finding the balance between what you know works in your daily routine, while being able to improvise tailored solutions to addresses specific situations if needed.
Sponsors and Role Models Pave The Way
Seugling names her mom as a key role model – a single mom who instilled in her a work ethic and sense of commitment that she emulates to this day. But she has also been appreciative of other role models along the way, people she was drawn to because of their outstanding work ethic and commitment, with a focus on trying to do the right thing.
Both mentors and sponsors have been key factors in her career. Sponsorship, in particular, she has come to realize has been critical to her rise. "I used to think it was all by luck, being in the right place at the right time, but I realized that sponsorship is the reason for my career," she says. For example, a series of coincidences introduced her to the woman who gave Seugling her first pivotal job with a financial services company. While she remembers thinking she was lucky, she knows now that she got the job because she was prepared. This same manager advocated for her, and she was tapped into her next role in marketing and the others after that by delivering each and every time.
At TIAA, her roles have similarly been achieved by showing that she was able to deliver and having her previous business partners vocalize those achievements.
Having completed the Emerging Leaders program, Seugling is applying what she learned and continues to take time for on-the-job reflection. The program focuses on designing and implementing strategies, examining social styles, recognizing blind spots and improving your ability to collaborate – among other things.
Paying it Forward
Now, Seugling focuses on paying it back by participating in mentoring programs. "Life is too short to be unhappy and I'm happiest when I am making a difference in people's lives. I've noticed that the people who have helped coach and mentor me have that same type of outlook," she says.
As a mentor, one of Seugling's most shared lessons is helping others identify when they should ask for assistance, a lesson she learned early in her career. She had just been promoted into a senior leadership position and was given a large task as an individual contributor. Seugling was excited about the opportunity since it came with responsibility and exposure.
But several weeks into the new role, after continuous late nights, she remembers wondering what was going wrong. She soon realized that she had been trying to do it all on her own.
"My manager assumed I would know to ask for help if I was drowning, but just because you have a new title doesn't mean that the new guidelines get immediately absorbed," she says. It was the first time she had realized it was up to her to ask for help so that the team could be successful.
"That's how I learned about influence and negotiation and explaining the business case for why you are asking for the resource," she says, information she is quick to share with others she mentors.
She has also been involved in TIAA's Women's Employee Resource Group (ERG), as well as the Diverse Abilities ERG for people who are caretakers or are dealing with a disability themselves. As the mom of a child with special needs, she has found that exposing herself to others with like challenges has spurred different ways of understanding problems. "It's ok to feel overwhelmed sometimes and it's also ok to be proud and excited and to share those moments as well," she says.
A Full Life Outside of Work
Always eager to give back to others, Seugling has recently become actively involved in a teammate's charity, Aislinn's Wish, which raises money for Sanfilippo Syndrome, a rare, progressive and fatal genetic disorder. "It's a joy to see people coming together for a common cause and rallying to raise money for a better tomorrow," she says.
In her spare time, she loves live sporting events, everything from being a spectator at soccer games for her kids, Liam, age 9, and Caleigh, age 7, to taking them to see professional sports teams. She also loves watching live music and experiencing the energy it creates in the venue. Finally, the family loves to travel, especially to New York to visit her family.