Voice of Experience: Miruna Stratan, Managing Director, Goldman Sachs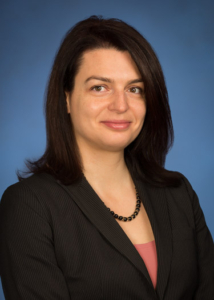 By Cathie Ericson
As a technologist, there is no better time to enter the financial services sector, asserts Miruna Stratan, Goldman Sachs Managing Director in the Technology Division. "Technology is no longer a cost center, but is at the core of digital transformations across the industry, providing the opportunity to impact and shape new business models."
Driving Technology Advances Throughout Goldman Sachs
Miruna joined Goldman Sachs after studying communication and electronics engineering at Bucharest Politechnica University and earning her graduate degree in telecommunications from Stevens Institute of Technology. Building technical teams and developing new innovative infrastructures have been the hallmark of her career throughout her time at the firm.
During her 17-year tenure at the firm, she has held multiple roles. Early on in her career she built technology solutions for the banking business. Subsequently, Miruna took a series of technology infrastructure engineering roles, focusing on data center engineering products across the computer storage and networking space and working closely to drive the firm's global data center architecture and strategy.
Over the years, she had the opportunity to work directly on building innovative technology stacks that transformed Goldman's operational model and enabled the firm to be increasingly agile. Miruna was also part of the team that engineered the virtual desktop platform for the firm, and more recently she drove a security engineering project that enabled Goldman Sachs to extend its cloud platform securely to public cloud providers. Currently, she manages the external cloud access platform, cloud desktop and remote access function for Goldman Sachs engineering. She was named Managing Director in 2015.
Being named "Technology Fellow" in 2014 was a notable achievement for Miruna. The role of Technology Fellow is a distinction reserved for the best engineering and architectural talent at Goldman Sachs, a select group of engineers whose authoritative knowledge is demonstrated through strong technical leadership, innovation and problem-solving expertise.
"At Goldman we manage complex technology stacks and control frameworks; we think of ourselves as a technology firm building the platforms that allow our colleagues to transform our businesses into a data-driven model through applied technology," Miruna says. "It is exhilarating to be at the forefront of emerging technologies in the infrastructure organization when the rate of technology change has been so tremendous."
Lessons Learned – and Now Shared
Over the years, Miruna's career has progressed in large part because of the opportunities she took to move laterally throughout the firm. "I had to prove myself each time in these new roles, on different types of technologies, but these opportunities were the most amazing learning experiences I had," she notes. "I am quite proud of the engineering teams I have built over the years as well as seeing many of my mentees grow and develop."
One important lesson she has learned is the significance of communicating your contributions to others. Early in her career, she focused on building her technical skills while avoiding the spotlight. She recommends that women develop their technical skills and establish themselves as an expert in a specific technology or platform early on, but once they get there continue to accept lateral opportunities and embrace the challenge to work on something completely different. Miruna also realized it's essential to listen to feedback and be thoughtful about how to align others to your vision.
"You have to modulate your message to the audience and understand how to be practical when delivering a product," she said. "Communicating your strategy effectively to stakeholders ensures buy-in for a new project or platform."
Ensure Women Have a Seat at the Table
Initially, Miruna felt intimidated as the only woman in most situations, but over time, she found diverse role models within the firm and across the tech industry. Connecting with these individuals helped her realize that being different allows others to naturally notice your contributions more.
"It's so important to have strong female and diverse role models in executive and senior technical roles," Miruna says. "We have to carefully mentor the technical talent not only as they enter the firm, but throughout their career."
Due to her own experience in the sector, Miruna is passionate about building a thriving female tech community and has participated in industry conferences such as the Grace Hopper Celebration of Women in Computing, ABI.NY events and Lesbians Who Tech.
She also focuses on giving back to the Women in Technology organization and devotes significant time to recruiting and retention programs, partnering with external organizations such as Girls Who Code and the Anita Borg Institute. Additionally, she has been involved in the Geek Speak program, which provides individual coaching and feedback to help women improve their presentation skills when discussing technical topics.
Throughout her career, Miruna has been involved with Goldman Sachs' affinity networks, serving as the Managing Director sponsor for the technical pillar of Women in Technology. She has also participated in the Disability Interest Forum and is an ally to the firm's Lesbian, Gay, Bisexual and Transgender community.
Supporting Children With Disabilities
Separately, she actively works at balancing her family and career while simultaneously addressing complex special needs situations. "I have learned how important it is to prioritize, delegate and recognize the activities that are the best use of my time," she says.
Miruna is passionate about helping kids with disabilities by ensuring kids with dyslexia have access to specialized education accommodations and programs. As October 15 is both World Sight Day and World Dyslexia Day, in October she reflects on her future impact and contributions to this important issue and creates a specific action plan for the upcoming year.
"There is now so much technology available that can be leveraged to help kids with disabilities participate fully and successfully at their grade level in the learning process," she says. "I regularly research innovation that creates accessible, technology-based solutions in the areas of communication and advocate for such solutions in the special needs community and within my school district."
An avid reader of both science books and literature, Miruna enjoys traveling with her husband and their 12-year-old twins. Recent trips have included Spain and Romania, and this year they traveled to Yellowstone and the Grand Tetons and learned about the amazing geology of Yellowstone County.
Save
Save