Mover and Shaker: Ciara Quinlan, Head of Electronic Principal Trading FX, Rates & Credit, UBS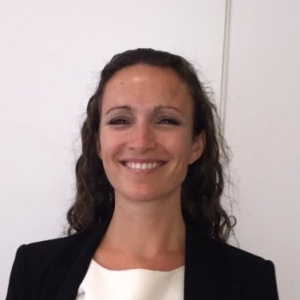 By Cathie Ericson
Few would call banking a "flexible" career, but UBS' Ciara Quinlan has found the secret to success in balancing work with family life.
"When it comes to being a great mum and achieving my career goals in parallel, I'm a believer in having it all," she says. "I took off the time I wanted when I had my son four years ago, and initially came back part time while managing to roll out a major project and advance my career at the same time."
She notes that one of the reasons she hasn't felt she had to sacrifice is that she has always been
brave in asking for what she wanted and flexible herself in making it work. Even though flexible working wasn't commonplace in trading roles at the time, she asked for a chance and worked hard to make it a success, noting that she would have burned out long ago otherwise. "Sometimes we have to create the environment we need," she says.
From Engineering to Banking
After earning a Ph.D. in electronic engineering, Quinlan decided to join the banking industry after learning that the industry was eager for people with her qualifications. She was offered a position at Dresdner Bank as a junior quant trader in foreign exchange, applying the same type of algorithmic and statistical approaches she'd learned in engineering.
"I was looking forward to working in a fast-paced industry and instantly took to working on a trading floor with many diverse characters and cultures. I loved the pace, intensity and unpredictability of the market."
Shortly after she arrived, the majority of her team was redeployed, and she ended up embarking on a project to rebuild the electronic trading systems with her boss. "It was the best thing that ever happened to me as I had to learn very quickly how to manage projects and figure things out for myself," she says. One of her first project deliveries was the EFX pricing system, and shortly after it went live, Lehman went under. "I was very quickly thrown into the deep end, and our new system was really put to the test," she recalls. "Thankfully it handled the unforeseen market uncertainty and volatility very well."
Several moves followed: she joined Barclays to work as a mid-level quant trader and later became co-head of the quant trading team; then she was approached by an old friend and colleague who wanted her to head up electronic FX quant trading at State Street so she went there and was able to hire a new team of top talent to build the company's electronic FX trading systems. Then, three years ago, her former Barclays' boss approached her to run electronic trading for FX at UBS. That role expanded a year ago to running electronic trading for FX, rates and credit.
"All the moves I've made have given me an interesting outlook on the culture of different banks. I know what I value from a firm and now find myself in a very happy place at UBS," she says.
Right now that includes a large team expansion and undertaking the massive project of rebuilding electronic pricing and hedging for the eFX principal business, as well as building from scratch UBS' electronic interest rate swap business.
"Those are the moments I look back on with the most pride — the growth periods when you're building new things and everyone's involved and excited to be consumed with the work. Then after the tough slog, you have the reward of seeing the new business flow in and realizing your success."
The Many Benefits of a Career in Banking
Quinlan's experience in banking has been overwhelmingly positive, a sharp contrast from general media portrayals she had seen prior to joining that show the business as being full of ruthless people, a rat race where you sell your soul and burn out quickly.
"It's been nothing like that," she says. "I love banking and have found there to be such diversity in the different roles and potential career paths. It's actually an extremely open environment where people are very interested in your views regardless of your level of seniority," she says, adding that even as a new starter having never studied finance and economics her views were listened to and valued.
A Family Role Model and Sponsorship Helped Show Her the Way
Quinlan readily admits that her role model has always been her father, a senior manager at IBM. "He really inspired me and I still think about how he would handle certain situations when I'm faced with them," she says.
She most admires that he tackled every job with the same high level of positivity and hard work, even long after he had retired. "It didn't matter whether the job at hand was boring or he would get any personal benefit," Quinlan remembers. "He tackled everything with enthusiasm and gave each job, no matter how small, his full effort." She also admires that he was always incredibly positive and treated everyone with respect regardless of their position. "He was successful because people wanted to work hard for him," she notes. "I always try to apply myself with the same level of enthusiasm."
That outlook has been important as she has progressed from building models to managing teams, where it's vital to have open communication and ensure their motivation and buy in.
"You can have the best strategy in the world but when you're running a business, you have to motivate the workforce who are actually producing the work and get them to buy into your plans," she notes.
Quinlan says her career has been shaped by informal sponsorship especially with bosses who exposed her to cross-business relationships. "I didn't know it at the time but it was massively important in how my career has progressed," she says. "Early in my career I focused solely on delivering my projects and didn't give much thought to networking or career next steps. My bosses encouraged me to push myself forward and gave me the exposure needed across the firm."
And now, she repays the favor when she mentors people who are new to the industry, reminding juniors who are focused on applying themselves to the immediate tasks at hand that they have to ask for more and put themselves forward. "If exposure across the firm doesn't land in your lap, you need to take responsibility and make it happen."
She shares her insight with a female networking group that she started at UBS, modeled after a similar one at State Street. One or two senior women meet with a small group of more junior associates to discuss different topics — anything that's challenging them. "It's the perfect environment to raise issues they are having and always involves interesting debate," she says.
In addition, she has been involved with a UBS front-office-led maternity support group that pairs a "business buddy" with an expecting mom to communicate changes and help them stay in touch while they're out. She's been participating as a buddy and now is about to use it, as she is pregnant with her second child.
In the little spare time she has, Quinlan says she loves travel, music and watching her little boy grow up. "I feel fortunate I get to take such an active part in his life and am proud he's growing up learning that gender plays no role in potential career success."
Save