Voice of Experience: Amity Millhiser, Chief Client Officer, PwC US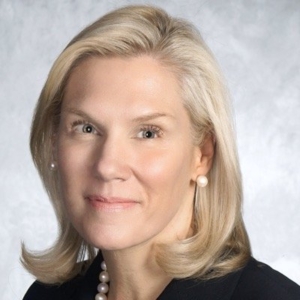 By Cathie Ericson
When Amity Millhiser considers her career with PwC, the word that comes to mind is "expansive." Over her 20 years with the firm, she has worked across countries, industry sectors and lines of business.
"I am proud that I have been able to have such a multi-faceted career while raising my amazing daughter," she says. "If you're courageous enough to pursue the opportunities that are thrown your way and think ambitiously about your future, you can have amazing experiences. I've spent my entire career in one firm yet had multiple careers within that framework."
From Wineries to Tech – A Career Spanning Multiple, Varied Industries
Millhiser joined PwC in San Francisco right out of college working with small businesses which at the time were primarily wineries. She knew she wanted to go abroad so she agreed to a three-year assignment with PwC Switzerland, ultimately staying for 19 years. While there she became the first female partner as well as starting the M&A business for the region. "It was a fantastic opportunity to travel the world and work with amazing clients and a wonderful team," she says. "Switzerland is as global and multinational as it gets."
Upon her return to PwC's US firm she became a managing partner and chief client officer for the Silicon Valley office. There she finds every day to be a new experience as she gets to know and understand the complex issues that her clients are facing and marry those with the experience PwC has to bring the right solution.
Since technology colors every industry sector – whether finance, retail or healthcare — she enjoys digging in to a fascinating conversation with each and every client about the impact that technology is having on their business, as they identify opportunities and risks at all different time horizons.
Sharing Lessons With Colleagues
Although Millhiser is cognizant of the many opportunities and experiences she has had, looking back she wishes she had realized the great impact she could have had from the very beginning. "You have to be willing to ask for opportunities and speak up if things interest you," she says. "I always advocate for young people to be willing to articulate the types of experiences they'd like, and then be willing to work hard once they receive that coveted assignment. The risk you take in terms of trying new things can be the best thing you ever did."
She also advises women to seek three things early in their career: business training, mentoring and broad experience. "Those are three differentiators that I really have benefitted from."
As women rise through the ranks, she reminds them to be supportive of one another – not just cheering the accomplishments, but having the courage to provide feedback that will help each one continue to excel. "The Silicon Valley practice I lead is full of incredible women who lead large client teams, each of us focused on our clients and the market. We are all very supportive of each other but we know that when you genuinely want your peers to get ahead, you not only celebrate their success but offer constructive feedback so everyone rises together," she says, noting the value of encouraging women at all stages of their lives and careers.
Becoming Agents of Change
One group that Millhiser supports wholeheartedly is HeforShe, a UN initiative designed to promote gender equality around the world. "I have always felt very fortunate to be part of a family and company that encouraged me," she says, which is why she knows that it's vital to commit to women and girls on a global level.
As one of the initial ten corporate HeForShe IMPACT champions, PwC continues to foster advocates as men and women work together to be agents of change all over the world. As part of its commitment, the firm has developed and launched a male-focused gender curriculum designed for global reach so they can educate others to be gender advocates and increase the number of women in leadership roles. While the firm has achieved parity in terms of intake, a major goal is to continue to retain women at higher levels of leadership.
Encouraging Financial Literacy For Young People
Another area where Millhiser is actively involved is "Earn Your Future," a PWC US program that was launched with the idea to leverage the firm's people, talent and time to develop the financial skills of young people in the community. "We have to help them develop financial acumen but also be prepared for jobs of tomorrow," she notes. The initiative involves an interactive curriculum designed to give students in grades 3 to 12 financial and economic knowledge. Educators are supported with tools that include real-time feedback, guides and other resources.
In 2013 the firm set out to reach more than 2.5 million students and educators with an initial commitment of $160 million, including one million service hours. Since then, partners and staff have given over 800,000 service hours, reached 3.5 million students and educators, and made an investment of over $80 million. In 2015, they raised the stakes to $190 million.
The program has been hugely successful in terms of reaching and empowering more educators and students than we ever thought possible, while also inspiring our people to be active in the community," Millhiser says.
Seeing the World
Having "seen the world through PwC," Millhiser continues to indulge her love of travel as much as possible, choosing beach locations when she can.
She has enjoyed sharing that international perspective with her 17-year-old daughter. "I've been able to show her the world outside the community she lives in. Because of that, she has a natural curiosity and an ability to go into new situations and adapt and make them work."