Voice of Experience: Rebecca Kniesel, Head of Institutional Marketing, Voya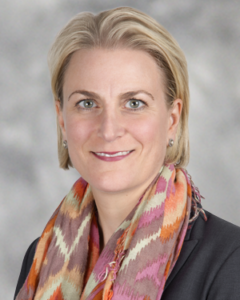 By Cathie Ericson
"To stand out, I suggest volunteering for projects outside of your comfort zone," recommends Voya's Rebecca Kniesel. "I wasn't always comfortable at certain points along my career journey; but, you have to be open to these situations and get as comfortable being uncomfortable as you can."
Charting Her Own Course in the Financial Industry
Kniesel began her career with the consumer retail banking division of MBNA America (now Bank of America), one of the first credit card companies to pioneer affinity marketing.
Living in Wilmington, Delaware at the time, she decided she wanted to head to the bright lights of the big city and went from credit card banking to investment banking, where she was hired in a marketing capacity for the syndicated loan division of Bankers Trust. Two months after she joined the firm, it merged with Deutsche Bank and her role changed significantly. Rebecca had the opportunity to join DB Capital Partners in which she focused on marketing and sales for 3rd party private equity funds. It was a big shift from credit card marketing and was a true investment banking job which included lots of late nights and long hours.
She then pursued an opportunity with Chase Private Bank – just three months before its merger with J.P. Morgan – and she spent four years there in marketing for the Latin American and U.S. private banks, as well as two years in marketing for institutional asset management. She later moved on to BlackRock (which had just announced its merger with Merrill Lynch Investment Management), in the dual role of marketing and consultant relations. Following this period, she returned to J.P. Morgan in a marketing capacity focused on fixed income for about seven years before she learned of a great opportunity at Voya, which she says has been a fantastic opportunity to round out her background.
Kniesel's career path includes 3 mega-mergers early in her career, which is a big reason she's had to learn how to be comfortable in uncomfortable situations. "The industry changes constantly, your career can change on a dime and you need to be flexible enough to navigate that", she says.
As Kniesel's degree was in psychology, she's had to learn a lot on the job and is a big proponent of encouraging new entrants to the field who may not have a finance or mathematical background. "I have charted my own path and have had to teach myself on the job," she says. "I am proud of the financial and technical expertise I bring to my current position and know that if I can accomplish that, others with a similar educational background can too."
She says that initially she felt self-conscious working with people who had learned the fundamentals of the business in school. But what she realized – and shares with younger professionals rising through the ranks – is that the industry is "not impossible to learn, even though people might make you feel like it is. Don't be afraid to ask questions; people expect you to," she says.
Currently, Kniesel is immersed in planning an annual investment seminar that the institutional division runs each year for its top clients, from institutional plan sponsors to defined contribution plan sponsors, insurance clients and consultants. The event includes a day of presentations, coupled with breakout sessions and topped off with a keynote speaker and dinner.
"I'm really excited about the agenda we are building for this years' seminar, with current topics that showcase Voya's capacity as a solutions provider," she says.
It's an exciting time to be in the industry, given the changes wrought by the digital age and what that means for financial services. With everyone constantly on their smartphones and being bombarded with options that allow them to make decisions on everything from groceries to finances on their devices, traditional marketers have an intriguing task to take a business that's traditionally relationship-oriented and build marketing programs and content that breaks through the noise.
The Challenge of Increasing Women's Participation in the Financial Industry
Expectations of the traditional work environment in the financial industry typically lack flexibility, which Kniesel sees as an ongoing, but unnecessary, barrier to keeping women in the industry. "As a manager, I want to understand what helps my team achieve their best at work," she says, adding that all employees have responsibilities outside their time in the office, whether that's caring for a sick parent or a young child. "If they work better at 3 a.m., then that's what they should do. It's unfortunate that in the financial world, that mindset is still not pervasive because it creates a barrier for women and not just those with children: 'Do I spend my life in an industry that doesn't allow me to juggle all aspects of my life the way I need to, or do I go elsewhere?'"
She says that women who have achieved success in the industry need to continue to push the envelope to make this "a career our children will continue to want."
As a member of Voya's New York Women's Network, Kniesel is excited about partnering with the human resources department on a related area – welcoming women back to the office after returning from maternity leave. Companies have made huge strides in this area and she's passionate about doing even more, particularly as the transition back to the office after maternity leave is an incredibly vulnerable time. If not handled well, it can significantly impact a woman's decision to remain in the workforce.
She knows the challenges well, since she herself has a three-year old son who "is her whole world and has changed the way I look at life and work."
Save