Men Who Get It: Joe Sieczkowski, Senior Managing Director, CTO, Chief Architect/Engineer, TIAA
"Being a leader who is open to diversity requires a number of qualities, but a key one is being a good listener," says TIAA's Joe Sieczkowski.
"So many people listen just so that they can respond, rather than internalizing what's being said to see if there's another issue at play. You have to be willing to have your beliefs turned around in the face of evidence," he says, citing a quote that has been attributed to Mark Twain: "It isn't what you don't know that gets you into trouble. It's what you know for sure that just isn't so."
A Tech Career Born on Wall Street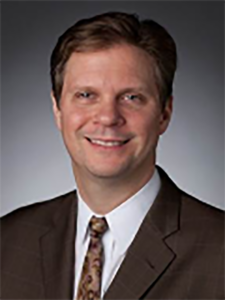 Sieczkowski graduated in a short 3.5 years from Lehigh University in the top 10% of his class with a degree in computer engineering and began pursuing a career in finance. As he describes it, "It was 'Revenge of the Nerds' on Wall Street where they were realizing it was easier to teach a math guy about bonds than vice versa."
He began his career at Lehman Brothers, where he took on a series of roles of increasing responsibilities. One characteristic that differentiated Sieczkowski from his peers was his drive to understand the nuances and complexities of each business, even as a technologist. For example, if he was delivering technology for derivative traders, it was important for him to understand how options were priced and how factors such as volatility would affect them. He subsequently held technology leadership roles at Deutsche Bank and then Bear Stearns. At Bear, Sieczkowski worked in the global clearing services division, where they were developing white labeled trading websites for their institutional clients.
With a desire to earn his MBA always in the back of his mind, Sieczkowski took the opportunity to do so during the market turmoil of 2008. During this time, he did advisory work and subsequently joined TIAA in 2011 as Chief Architect/Engineer where he currently leads a cross-functional team of technology leaders in strategy, architecture and enterprise data.
Lifelong Diversity Champion
Beginning with his mom, and leading up to a female CIO at TIAA, Sieczkowski has had a series of women role models who instilled the importance of diversity. He was proud watching his mom as he grew up: She juggled three kids while working and going to school where she graduated summa cum laude. Her career progressed from being a nurse to head nurse to nurse manager and also president of the New Jersey State Nurses Association. With that upbringing, he never doubted the capabilities of women, who have been his colleagues and managers ever since.
That's why he champions diversity throughout TIAA, realizing that the department's success depends on the skills of his team. With a proven correlation between innovative teams, success and diversity, he embraces the need to seek diverse points of view to challenge the status quo and ultimately reach better conclusions. "My teams are known for highlighting diversity, and I believe that's one of the reasons we consistently outperform norms," he says. "When an employee takes pride in their differences, they are more apt to seek out opportunities that showcase their skills, which in turn helps us perform."
Groom and Let Go
Sieczkowski takes pride in the leaders he has helped develop, explaining that it's a four-part process that involves mentoring, grooming, promoting and releasing. "Often that fourth step can be the hardest, but you have to do all four," he asserts.
"If you insist that you need a certain person on your team, you are holding them back. When you develop talent, it's in the best interest of the firm to let them fly." He has taken that to heart, and prides himself on leading a development-focused organization that constantly works to promote people into larger roles.
Part of that evolution in driving female success is bringing in entry-level talent and then making sure they have opportunities to be in front of senior leaders. "When you have outstanding people, you want to make sure they are visible," he says. "Effectively sponsoring people entails identifying potential and spotlighting and nurturing talent."
He also encourages his female employees to pursue continuing education, whether formally through a master's program or informally through the many training opportunities TIAA provides.
Failing Fast and Focusing on Output
While he is an official sponsor of a group mentoring program, he also believes it's in the informal actions where he can make a difference, and that supporting emerging talent through stretch assignments should be part of each leader's job. "You have to let them know that it's ok to fail," he says, adding that his department understands the value of "failing fast." When they undertake an innovative initiative, they'll term it a "fast fail pilot," knowing that they have the chance to watch it for four to six weeks to see if it will be effective and move on if not.
As leaders consider opportunities for women, there is one key area where they should be focused: output. "We have to remember that flexibility thrives when we focus on the outputs of performance and effectiveness, rather than time. It yields a better work environment and a better work product."
Save