Movers and Shakers: Kristy Finnegan, Portfolio Manager, Voya Investment Management
"When you begin your career, it's easy to assume that you'll choose your path, and that you'll start at the bottom rung and work up in a linear fashion," says Kristy Finnegan, a portfolio manager on the global equity team at Voya Investment Management.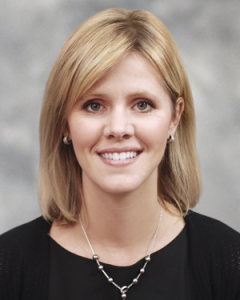 "But the truth is, you determine your own progression by asking for responsibility and taking chances."
This theory has propelled Finnegan from her initial career in investment banking after earning a BS in economics from Vanderbilt University. She moved to New York with the intent of landing a position on the sell side, but the 9/11 tragedy set off a hiring freeze.
Finnegan eventually joined the precursor firm to Voya, where she started pursuing her Chartered Financial Analyst® designation, initially working with the small cap value team.
A Courageous Meeting Yields a Career Break
When Finnegan realized she was not in her ideal role, she worked up the courage to pitch a stock, unsolicited, to the portfolio manager.
"It ended up being the best career move I ever made," she says, since it set off a discussion that ultimately led to the manager recognizing what she wanted to do and moving her into a junior analyst role. To this day, she says the portfolio manager she spoke with was fundamental to her career success. "He believed in me and took a risk in promoting me into the analyst role. He guided me the first few years, during the start of my career path, and his investing style of avoiding group think formed my current approach to stock selection."
That was her first break into equity research, which she followed with a stint as a technology analyst and then consumer staples analyst before becoming a portfolio manager. "That was a huge professional achievement, because it was a recognition of both my analytical abilities and interpersonal skills," she says.
In her current role on the global equity team, she has been instrumental in forming a platform that brings together U.S. and international teams and portfolio engineering groups. "Joining these groups has been a really exciting process and we are off to a great collaborative start," she says.
Learning Along the Way
For Finnegan, learning moments have come via mistakes, as they do for most. Equity analysts work with available data to form estimates for the future, which means there are inherent risks. "Early on I missed some lucrative opportunities because I deferred to others rather than trusting my own work," she says. "Those misses taught me to be an advocate for my own stock picks and trust my instincts."
Finnegan believes that success comes most naturally if you love your job. "I've always had career goals, but my major motivation is to excel for both myself and my team, and that breeds success."
While she credits her portfolio manager as her sponsor, Finnegan knows that you can find mentors anywhere and everywhere, which is why she names Sheryl Sandberg as one of hers. "When I read her book Lean In, I felt like she was talking to me, with clear, tangible advice on how to overcome obstacles and the challenges that all of us face."
Mentoring the Next Generation
Several years ago, Finnegan was part of the team that introduced the Voya Investment Challenge in collaboration with Girls Inc. She and another colleague were chosen as volunteers to lead a group of eighth grade girls. They worked with the same girls through sophomore year, educating and mentoring them on financial foundations and how to take charge of their financial future. The challenge took place over three years, concluding in their sophomore year. They were given $50,000 pretend dollars gradually over their first year, which they invested it in stocks, bonds and other funds. They tracked the investment performance and made buy/sell decisions as you would with a real portfolio.
"It is so important for girls to gain exposure to these situations where they might not otherwise have the chance to learn these principles," says Finnegan. Her involvement came full circle when a colleague attended this year's celebratory lunch and excitedly told her that one of the speakers was a girl whom Finnegan had mentored, now attending Cornell University. "It was so impressive to see the success she had become."
These days Finnegan is still mentoring young people, but it's her own children, a five-year-old daughter and three-year-old twins. She's also an avid reader and runner, but spends most of her time having fun with her family.
By Cathie Ericson