Men Who Get It: Antonio (Tony) Castañon, Citi Retail Services, Managing Director and Sears Portfolio General Manager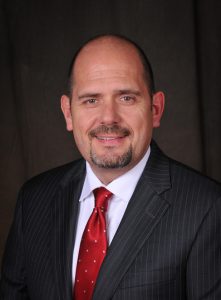 Leaders who want to promote diversity and inclusion need to start from a place of curiosity, says Citi's Antonio (Tony) Castañon. "They have to be curious about those they work around and listen to their stories, then open themselves up to being accepting of others."
By doing so, they can work on embracing diverse teams and identifying members that will help the company formulate the right outcomes. "You have to be intentional in creating teams with different genders, races and diversity of thought."
Castañon started working with Citi while going to college in Las Vegas and has been with the company for 26 years, interspersed with brief stints at Aetna US Healthcare and Sprint. He has spent most of his career in operations for Citi and Citi Retail Services, one of North America's largest and most experienced retail credit solutions providers. He moved to a partner management role in Citi Retail Services three years ago. In his current position, he is responsible for the overall management of the business' multi-billion dollar credit card relationship with Sears and its affiliates, including K-Mart and Sears Hometown and Outlet Stores (SHO).
Why Diversity Matters to Him
Diversity is not only paramount but also personal to Castañon, who can relate to inclusion issues as a Latino and as a recently out gay man. "It's important for me to be active because of so many influential people in my life who have created a safe environment to succeed. I want to replicate that environment for others."
He is especially attuned to discrimination, and is quick to engage in non-confrontational conversations when needed. For example, prior to coming out, he had heard some disparaging remarks about LGBT people and realized he had to say something.
"You always have to challenge people and hold them accountable by asking 'why' questions, such as 'Why is this conversation appropriate?' or 'Why does that remark make sense in the context of our conversation?' That opens the door to discussing the issue and bringing to light a potentially offensive remark that they might not have meant."
Castañon understands what it means to "play a role" because he began his career as a married man before realizing that he needed to be who he was. "I told myself there would be consequences, but they ended up being largely self-perceived," he says.
He had felt that the barrier would be insurmountable, but through time and self-discovery he realized he had to be true to who he really was.
"My life completely changed," he says. "I felt so welcome and at ease and was fortunate in the fact that not one relationship, either professional or personal, was broken after I faced who I am."
Opening the Door to Inclusion
As a supporter of Citi employee networks, Castañon helped launch one for Hispanic employees, and he seizes opportunities, when they arise, to provide advice and counsel to colleagues and others.
A highlight for him was participating as a key contributor for "Ready Set Risk," a book that addresses how women need to be greater risk takers in the workplace. He shared stories of how he supports pushing women to take risk and offered practical examples of women and men who have helped champion women's causes.
Over the years, he has worked as a sponsor and mentor to diverse coworkers in a variety of capacities, from offering consultative advice to providing direct feedback on ways women can strengthen their brand. His goal is always to champion open, transparent relationships.
Being true to himself allows him to be a role model for others.
Castañon believes that a supportive corporate culture is important for LGBT individuals because it unleashes their potential. "Previously I wasn't able to give 100 percent because there was a part of me I didn't want to share," he says. "Living the double life is exhausting and consuming – being one way externally and another inside. Now I am my authentic self."
He is incredibly proud of Citi's long-term record of as a champion of diversity and specifically of all it has accomplished over the past 10 years. The company is a top sponsor of the Human Rights Campaign and a sponsor of Out and Equal in the Workplace, which brings equality to the workplace globally. Citi also has been involved with Out Leadership, sponsoring its fourth annual "Out on the Street Summit" in the US, where Citi's CEO delivered a keynote address. "I feel pretty proud about working for a company that values diversity and supports it tangibly," he says. "Whether it's women's, LGBT or racial networks, the company has demonstrated the importance of an inclusive culture."