Men Who Get It: Ashutosh Mondal, Business Analyst, UBS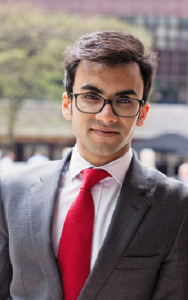 Leaders make all the difference in encouraging and supporting a culture of diversity, says UBS' Ashutosh Mondal. "They set the standards for the team and model acceptance," he says, adding that not only does it create a more positive internal culture but it helps with recruiting as well. "Actions speak loudly and it's important for leaders to show their commitment to diversity and not just support it in theory."
With a background in computer science and engineering, Mondal started with UBS in a technology and project portfolio management role as part of his graduate training program and has been with the firm ever since, holding diverse roles in finance, project management and analytics. He recently participated in a high-profile project within the Investment Bank, the Client Data Lab, which entailed mining data from different sources and teams to develop an analytical structure to help facilitate a better understanding of clients.
Acting as a Role Model Internally and Externally
As an openly gay man in banking, being a diversity champion is extremely important to Mondal because of the role models he himself was fortunate to have. "When I first joined UBS, I wasn't sure what the protocol was for telling my team and others, and I appreciated the support I got which allowed me to be comfortable being out and open."
Mondal has since very actively paid it forward. He is involved in the graduate training programs and with interns to ensure that they see diversity role models so that they know there are resources to assist them if and when they need them. Interns attend several internal education sessions, one of which is a panel discussion introducing various employee networks including LGBT support, which Mondal helps lead.
He is active with UBS' internal community affairs team and also helps represent UBS in external outreach like Inside Out and other industry programs.
Since joining UBS, he has been part of the Pride network and is now part of the steering committee where he helps answer questions for those who need mentorship. One of their outreach efforts has involved an anti-homophobic bullying education campaign, part of which was to run a workshop with a video and discussions in local schools. It was so well received that it has been launched nationally for all primary schools within the U.K. Looking back, many students have said that it was one of the most impactful experiences they have had during their school career.
Along the way, Mondal has been impressed by the support the program has gotten from people to volunteer and be involved.
"UBS has an extremely open and accepting culture, and I haven't ever felt prejudiced against," Mondal says. "It is my pleasure to help share that value with others internally and externally. "It's not always easy to make the time commitment but it's worth it."
Save
Save