Voice of Experience: Martha Ruiz, Partner, PwC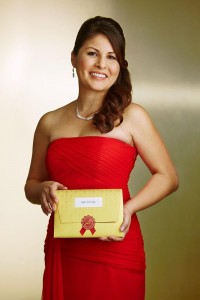 For Martha Ruiz, having a family provided an unanticipated career boost. "I learned that it's ok to say no and become comfortable with what's best for me," she says, noting that as her priorities shifted, she experienced an increased confidence. "Family sets a counterbalance with your career, and you become better at knowing what's important and setting priorities."
PwC has been the perfect environment for her to grow her successful career, joining the firm's general tax practice directly out of college. She soon migrated to the entertainment and media group in Los Angeles, where she provides tax compliance and advisory services to a variety of entertainment clients throughout Southern California.
It's a vibrant field, given the new ways that consumers are consuming content that change long-held industry paradigms. Broadcasting has evolved to become tailored to a more fragmented audience, a shift that will continue as video on demand and streaming technologies continue to grow. "The industry will continue to mold its business around these changes and it's to the benefit of the consumer," she says.
An Oscar-Worthy Performance
This specialization in the entertainment field is what provided her the honor of becoming the Oscars® balloting co-leader in 2015, overseeing the team and balloting process that takes place during nominations and the finals. As such, Ruiz was only one of two partners who knew that Spotlight would be named Best Picture.
"It's a unique spot to realize that you know the final winner before the rest of the world," she marvels.
But even the golden glow of the Oscars® pales when she is asked to name her biggest professional achievement, which for her was becoming partner in 2011. "I joined the firm for all the opportunities it availed me and took advantage of all the doors that had been opened to me," she says, mentioning mentors and coaches who have helped her funnel career decisions. "When I started, it wasn't with the objective to be a partner but only to get experience; however, as I progressed within the firm and saw what an achievement it was for those around me, I began to have the desire to become partner. Now I can help coach others within the pipeline."
Mentoring Others
The pipeline is an important aspect to Ruiz, who balances busy client engagement with a leadership role on recruiting efforts. "Talent is our future, so we are invested in making sure we have the right skill sets and the best and brightest coming through our door."
She's also active in the "Aspire to Lead" program, where students from various campuses experience the firm and join in panel discussions via a webcast that links all the PwC offices. This year the event focused on gender equality and featured Geena Davis and Dawn Hudson.
As she works with younger talent, she reminds them that it's especially important for women to learn to build their confidence and tools to use their voice. "We have to train ourselves to say the things that are on our mind even when it feels hard," she says, adding that's one of the benefits of diversity – different views.
Mentors can play a valuable role by providing a different experience or perspective when tackling an issue or challenge.
"Reach out and talk through a situation with someone with whom you feel comfortable," Ruiz advises. "You don't have to go it alone because they have been there."
And, it certainly doesn't have to be formal relationship. "Throughout my career, I've had a variety of people I can bounce ideas off of and seek perspective, which gives me a better sense of how to tackle something."
Now she can share that vantage point when talking to younger associates, helping them see the bigger picture. And she urges her peers to take the time to do the same, as they will reap the benefits when they take time to foster others' career success.
"You might be working with someone indirectly, and as time flies and you see them flourish and become your peer, the value and enrichment you get from having watered that plant is so important."
Family First
Ruiz is a big proponent of the family leave that PwC offers, having utilized it twice when her kids, now 11 and 7, were born. "Many of my contacts at other companies were envious of the flexibility I had to decide when I was coming back, and then when I did return, I felt really supported by partners with the transition. There has been an enduring sense of gratitude that the firm is doing the right thing."
She says that the firm's culture embraces flexibility and the ability to do work anywhere. "PwC takes the broader view that every individual may be going through different stages, and therefore, flexibility can look different for each person."
For her that means dedicated vacation time, including a recent family trip to Hawaii that included her parents and siblings. "It was a calm, relaxed setting that allowed us all to catch up and for the kids to spend quality time with their grandparents."