To Telecommute or Work in an Office: That is the Question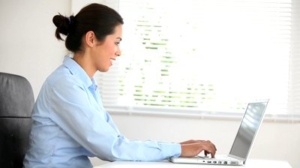 In the age of modern technology, working in an office has its obvious drawbacks. And as the telecommuting business continues to expand, professionals are buzzing about whether offices are even necessary anymore, both fiscally and professionally.
So are they?
Technology now enables workers to access work servers, email, employee instant messenger services, shared folders, and more, practically allowing them to simulate an office environment. 'Face-time' can also be achieved by free services such as Skype.
Yahoo! imposed a ban on working remotely with the entry of Marissa Mayer as CEO, this move was not without criticism. As commented upon in an article in American Banker.
"Giving employees the flexibility to choose where they work is an endeavor far too nuanced for a simplistic approach." Yahoo! may be one of the only companies, however, who are making such drastic decisions. American Express, Citigroup and Capital One are just a few of the large companies who are growing their work-from-home programs in the roles of field sales representatives and technology.
In fact, Citi has been exemplary in creating a hot desk system in their offices in Long Island, NYC and employees seem to be reaping the benefits of such flexibility.
Karyn Likerman, Head of Inclusion Programs and Work-Life Strategy at Citi Bank says she could virtually do her job offsite. "Most of my meetings are with others that work across the US and around the world," she says. "I have a proper work space at home and can function fully from there, seamless to those that I work with."
Averting the traditional office setup also undeniably cuts costs, and allows companies to maintain low overhead. When budget makers find themselves under earnings constraints, they often turn to telecommuting as a solution to cutting down on business real estate.
Those in favor of working remotely also argue that workers with strong creative minds can more likely come up with strategic and innovative ideas when they are in a more relaxed and comfortable environment. Depending on a company's office culture, a stiff and conservative ambiance can stifle such productivity.
Forbes contributor Jacob Morgan argues against corporate office spaces, citing the 2013 Regus Global Economic Indicator, which states that "out of 26,000 business managers across 90 countries, 48% of them are now working remotely for at least half of their work-week."
There is also the question of the worker's daily commute, which can be quite lengthy for many around the world. The United States Census Bureau reports that 600,000 employees in the U.S. alone travel 90 minutes and 50 miles to work (each way) whereas 10.8 million of us travel 60 minutes each way. This is significant travel time that can be used to improve productivity and company growth.
Is it generational? Forbes contributor Morgan believes it is. On the topic of Millennials, he reminds us that by the year 2020, the majority of those in the workplace will be from their generation. "This is a generation that is used to being connected," he writes. "Millennials grew up with social platforms…this is a generation that doesn't know what it's like to get 200 emails a day while sitting in a cubicle. Organizations need to adapt to this employee."
Offices, however, still serve a number of useful functions and perhaps a balance of the two options is the answer. Citi's Likerman can complete most of her tasks remotely; she admittedly enjoys "the in-person collaboration when working in the office."
Likerman notes that, "Technology in meeting rooms (video conferencing, access to the internet and my desktop), dual monitors, higher quality video conferencing" are all reasons why an office environment still proves beneficial. She also notes that because she works for a bank, "we have certain systems that are not accessible outside of our firewalls so those employees must work in an office."
She notes, most importantly perhaps, that customer facing employees can't get around working from their place of employment. The need for people to connect directly with other people will never go away. Working physically among fellow employees can form important foundational relationships that telecommuting cannot achieve.
The spontaneity factor is also huge when arguing for the traditional office environment. A chance encounter with a colleague from another department while getting coffee, for example, leading to a new collaboration, could never happen outside the office.
A research study called the "Allen Curve," which is named after MIT management/engineering professor Thomas J. Allen, began in the 1970s, which found that "the probability for frequent communications among engineers is greatest when they're located within about 100 feet of one another." Proximity tends to lead to speedier decision-making, some argue.
In truth, proper research has yet to hit the public on whether or not productivity increases or decreases due to telecommuting. And it is still tricky to ensure workers are being as productive as required when working from home, or outside the office. So this debate will likely continue. However, telecommuting will likely continue to grow because not only is it desirable to the employee, but to the company's numbers.
By Gina Scanlon