Voice of Experience: Janine Shelffo, Managing Director, Co-Head Technology, Media & Telecom Group, Americas, UBS Investment Bank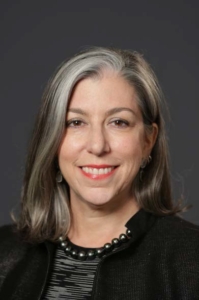 "When I started my career, I didn't appreciate the extent to which different is good in our business," says UBS's Janine Shelffo. "Thinking differently and approaching problems from different angles is critical in coming up with great ideas for clients. Being authentic is more important than fitting the stereotype of an investment banker and is a stronger foundation for building long-lasting client relationships. As I look back on my career, I believe that being a little different became one of my biggest strengths."
Shelffo, who describes her career path as "surprisingly linear," recently celebrated her 26th anniversary of working on Wall Street. After graduating from Georgetown, she started as an investment banking analyst in mergers and acquisitions, then focused on high-yield and distressed investments before earning her MBA from Columbia Business School. She returned to investment banking at DLJ, where she joined the sector coverage team focused on tech, media and telecom and has subsequently maintained that focus for almost 20 years, working for Credit Suisse and Lehman Brothers prior to joining UBS seven years ago. Shelffo currently co-heads the firm's Technology, Media and Telecom investment banking effort for the Americas.
When asked to describe the professional achievement she is most proud of, Shelffo laughs and points to her resilience, having survived two bankruptcies and three sale transactions of her employers during her investment banking career. "You have to learn to replant, reposition and roll with the punches, and commit to earning the respect of new colleagues along the way," she says. "Hopefully the volatility of the financial services industry won't be quite as dramatic going forward, but the fact remains that the ability to adapt and reinvent yourself is a key skill set in our dynamic industry."
Unprecedented TMT Industry Shifts
Right now Shelffo is immersed in the significant impacts of disruptive technology across the sectors she covers.This includes significant changes in consumer content consumption, communication and purchasing habits, including mobile adoption that has been faster than predicted. As a result, the economic models in the industry are changing dramatically as advertising dollars shift away from historical categories with incredible speed, content bundles unbundle, consumer appetite for subscriptions is tested, and the line between content and commerce blurs. In addition, the sheer amount of data and information available on customers and their purchasing and consumption habits has increased exponentially.
Not only are her clients trying to adjust their businesses to prosper in the changing landscape, many of them are also suddenly facing new competitors as some of the historical distinctions between technology, media and telecom companies fade. Shelffo says all this disruption is incredibly intellectually stimulating, and adds that the best part of her job is waking up every day confident that she will learn something new.
Overcoming Stereotypes
As co-chair of the Diversity Council for UBS Investment Bank in the Americas, Shelffo feels good about the cultural transition that has taken place during her years in investment banking. "I believe the business case for greater diversity and inclusion in our business has been proven and that the large Wall Street firms are intensely focused on it," she says. Yet negative stereotypes of a male-dominated investment banking environment persist, and she admits to being frustrated when some young women on college campuses shun the industry without thoroughly investigating it. In fact, she says UBS and other banks have started reaching out to women on campus earlier, specifically to get to them before they form false impressions and make up their minds that the industry is not for them. To that end, Shelffo took matters into her own hands and conducted a speaking tour on college campuses last year entitled "Navigating Wall Street in Heels." She also created a webcast on "Women on Wall Street" for the bank's inaugural sophomore program that was distributed through social media and is available on UBS's website.
What she does see as a potential impediment to increased diversity is a lack of senior female role models. This makes it harder for women to see themselves as the primary client interface and can undermine the self-confidence necessary to bring their whole selves to work as they move along the career path. "Being a trusted advisor to clients actually requires a lot of skills that are more stereotypically female, such as gently building consensus, fostering collaboration, active listening and navigating emotionally charged situations. Our role is often to help other people look smart and, for better or worse, that's something that women generally do well." In addition, Shelffo points out the significant increase in gender diversity among clients in her coverage sector and notes, "Our female clients are delighted to see gender diversity on our side of the table too."
Supporting Women
Shelffo urges younger women to resist what she sees as a growing trend to try to plan their whole lives before leaving college. "These days I find that many young women are calculating how the job will accommodate a family and evaluating the merits of finding a career path that's less demanding before they've even started out," she says. "If I'd had that mindset, I might have talked myself out of investment banking and never discovered what an amazing career it can be. In truth, it would have been entirely speculation since I had no idea then what it would be like to be a mother or how supportive my future husband would be of my career." She advises young women to focus on how to maximize their learning and build a strong foundation to create career optionality, rather than trying to be clairvoyant about how their lives could unfold a decade or two down the road in a particular job.
These days, Shelffo views diversity among new hires on Wall Street as less of an issue than retention of women over the long term. "Our incoming class was 40% female last year and I feel very good about that," she says, "but data shows that across Wall Street there is an acceleration in female attrition starting at the director or vice president level," which is typically the point when women are stepping up to be a primary client interface and are also often simultaneously starting their families. Transitioning from subject matter expert to new business originator can be very intimidating for women and men, and it often happens at the same time they are dealing with meaningful transition in their home lives.
She sees some women opting out at that juncture because of the pressure they put on themselves. "We hire women who are Type A and used to being the best of the best.When you're balancing a family with a banking track, you are often out of your comfort zone on all fronts and it becomes harder to feel like you're doing an A+ job in everything," she says, adding that many conclude they'd rather find a less-demanding career path to get back to feeling "best" in all areas of their lives.She points out that raising preschool-aged kids, while working in a demanding occupation, is a really challenging life stage for both men and women, and that it is difficult to maintain perspective and appreciate that it's a relatively short period in the arc of a long career. Shelffo commends financial services firms for doing what they can to support young families and applauds UBS's recent increase in paid primary and secondary caregiver leaves by 33% and 50%, respectively, in the United States.[C1]
Shelffo says her diversity council is intensely focused on the issues of female retention at this mid-level and is launching multiple initiatives aimed at that population. For example, Advance, a year-long UBS program for Directors that was launched in 2015, combines networking between women to encourage peer support, individualized coaching to increase skills and confidence and a sponsorship program that encourages senior executives across the bank to champion these women. "We have incredible rising female talent in our investment bank and these women are poised to become the next generation of amazing role models, so we want to support them in every way we can," she says.
She is sympathetic to the challenges the managers of these women face in their efforts to be supportive. "They want to make sure that their promising women know that there are opportunities to downshift if they want or need to, but don't want to be patronizing or suggest that their ambition levels have suddenly changed because they are starting families," Shelffo says, acknowledging that it's a difficult balance to strike and that managers are understandably worried about saying the wrong thing. Her diversity council is also launching a Fostering Diversity & Inclusion training program for senior managers in the investment bank to provide them with the right support and tools to feel better equipped for those conversations.
Finding the Right Balance to Thrive
"A career on Wall Street is a marathon not a sprint. It's critical to recharge in order to foster creativity and original thinking," Shelffo says. She claims that her best ideas for clients rarely come to her while she's in the office and that clients don't enjoy spending time with people who do nothing but work. Shelffo says that while she and her generation might not have thought twice about devoting every waking minute of their lives to their jobs when they were starting out, she commends today's graduates for generally having more well-rounded definitions of success, which are more sustainable over the long term. New UBS initiatives like "Wickedly Smart Working" solicit and implement the best crowdsourced ideas from junior bankers to reshape current work practices in order to encourage employees to be successful in every dimension of their lives. [C2]
Shelffo is passionate about extracurricular activities which quiet the mind, and credits painting, yoga and meditation with being important to sustaining her own personal balance.A part-time student at the Woodstock School of Art, she now enjoys taking weekend painting workshops with her 13-year-old daughter, whom she proudly describes as an amazing artist.She is also a trustee of the Kripalu Center in the Berkshires, the largest yoga and meditation retreat center in the country, and executive sponsor of the first UBS mindfulness program pilot in development for later this year.
"There is no one-size-fits-all blueprint for balance in a demanding career path," she says."It is a deeply personal thing.It's an issue for men just as it is for women, and it's not just about family time.You must have the self-awareness to figure out what you need for renewal and the self-confidence to create space for it."