Men Who Get It: Naveed Sultan, Global Head of Treasury and Trade Solutions, Managing Director, Citibank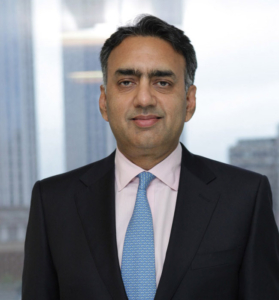 "If there's a fundamental disconnect in the area of diversity, businesses will not have the outcomes they could, as there will be significant lapses in their performance," says Citi's Naveed Sultan. "That's how important I believe this issue is, not only to me, but to our organization as a whole."
As head of the Treasury and Trade Solutions division of Citi's Institutional Clients Group, Sultan oversees one of Citi's largest global businesses, which handles multi-country client relationships. This business provides an integrated suite of treasury, cash management and trade finance services to multinational corporations, financial institutions and public sector organizations and it runs the industry's largest proprietary network with banking licenses in over 100 countries. "Our work goes to the heart of the topic of diversity," says Sultan. "In any global business the talent mix must reflect the footprint, the cultural attributes and ability to adapt and understand the notion of inclusion. For a global organization to be successful, it must incorporate those elements into its business model."
Sultan began his career in Pakistan, where he worked for a few years in corporate banking before taking a sabbatical to study in the United States for his second management degree, which he earned at Sloan School of Management at MIT. "My decision to study in the United States was driven by my desire to gain exposure to a diverse academic environment and interact with people with different backgrounds," he says. "It was one of the best decisions I have made because it gave me a very rich experience."
Upon graduation, he changed his line of specialization into transactional banking, extending into operations and technology, and joined Citi in Saudi Arabia, moving through several positions and geographic locales over his 23-year tenure to his current role.
A Diversity Champion
To Sultan, retaining a diverse talent pool makes business, economic and social sense. "It's simply the right thing to do, but more than that, there is vital business and economic logic to it," he says, mentioning a robust body of research that proves diversity contributes to a stronger business due to a better working environment and more informed decisions.
"The notion of diversity in a broader context has always resonated with me, but it's even more compelling and convincing when you consider the business case," he says.
Growing up, Sultan says his economist/banker father told him that he would be among the first generation in Pakistan to make the transition into an international environment, to live their lives in a global world. Along with that, he cautioned, would come the need to never pass a value judgment on someone who's different, but to appreciate people for what they are and have a sense of inclusion.
"That lesson stayed with all of us, and that's why I realize it's an important mindset that managers need to have – the ability to value people for what they bring, rather than focusing on their shortcomings," he says.
Valuing Differences
Sultan realized early on that you can't confuse style with leadership. For example, somebody who is understated is merely exhibiting a different style and may well be an equally effective leader as someone who is more dimensional and extroverted.
"As managers we have to condition ourselves to develop an appreciation for different kinds of leaders," he says, even though he has seen that supervisors often subconsciously believe that everyone should converge toward one common style of management.
But, as he points out, if you do that, why do you need diversity? As Citi has evolved rapidly in regards to this dimension he says that awareness has risen exponentially throughout the company. "Ever since I joined Citi, I have been participating in diversity discussions and how we should implement policies to make organizations more responsive to the notion of diversity."