Voice of Experience: Anilu Vazquez-Ubarri, Chief Diversity Officer and Global Co-Head of Talent Development, Goldman Sachs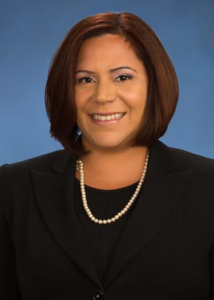 "I wish I had known earlier in my career that the most rewarding experiences would come from the more unexpected opportunities."
Reflecting on her career, Anilu Vazquez-Ubarri says that her path might seem to be carefully designed, but in reality what has led her to where she is today is her appetite to try new and different roles at critical points in her career, the wise counsel from mentors and her belief in facing challenges head on.
Analyzing Talent for Individual and Firm Benefit
Vazquez-Ubarri began her career as an executive compensation and employee benefits lawyer, advising clients on employment matters in the context of corporate transactions. Even at an early stage of her career, Vazquez-Ubarri enjoyed advising clients and understanding every aspect of their business to provide holistic solutions, particularly with respect to the people side of the transactions.
This led to her first job at Goldman Sachs in Employee Relations, where she provided advice to managers and employees on how to navigate their careers and manage conflict.She then became chief of staff for the Human Capital Management division and is now Chief Diversity Officer and global co-head of Talent Development.In her current role, she is responsible for evolving and integrating leadership and the talent and diversity priorities at Goldman Sachs.
"Had I known this type of work existed I would have gone into it earlier, since my current position is a perfect match for my interests and allows me to apply the knowledge I have collected throughout the years in the different roles I have held," she says.
Building and leading this new group has also presented an entrepreneurial opportunity for Vazquez-Ubarri, which she considers to be one of the more rewarding aspects of her job. "I appreciate being allowed to lead and innovate in a space that is so important for the firm and also to have the opportunity to build new career paths for the people on the team. It is a privilege to be part of their professional development," she says.
As part of this entrepreneurial mindset, she and her team are looking at the firm's practices with a fresh approach.They have continued to build on the firm's data-driven approach, using people analytics to identify priorities in their talent strategy.In addition, they use a person-by-person approach to design customized solutions for different talent pools. Realizing the crucial impact that managers have on someone's career, the firm has also reinforced its emphasis on manager effectiveness as a driver of performance.
"Women Should Feel Inspired About Their Chances for Success"
Vazquez-Ubarri believes that what may have historically been perceived as challenges for women in particular are actually questions and challenges that men and women share. "At different points in our career, we all question our ability to manage our personal and professional responsibilities and interests," she says.
Vazquez-Ubarri observes that it is critical in those moments for employees to have a support system at work that encourages them to discuss their situation and also take advantage of the resources available to them."I had just returned from maternity leave a few days before being promoted to managing director at Goldman. It was of course a very important time personally and a significant milestone in my career, and the flexibility and support I received from the firm made all the difference."
"Women should enter the industry in full power, with the expectation of success and confidence in their abilities. They should pursue opportunities that put them in the middle of the action, where problems need to be solved, where challenges exist and where they can contribute in a meaningful way," she says.In addition, Vazquez-Ubarri believes that developing strong relationships with clients and mentors has been crucial to her career trajectory.She equally believes that Hispanics/Latinos should be proud of their heritage and seek work environments that embrace their difference as an asset.
"My cultural background and upbringing has had a major influence on how I approach situations of ambiguity, how I build relationships with people with different points of view and how I manage a team – all things that have been crucial in my career progression," she says.
Offering Guidance to Others
Vazquez-Ubarri knows that managers and sponsors play a critical role in developing and retaining talented people, and she highlights how important it has been in her career to have managers and sponsors who believed in her and provided tough feedback along the way. "Their belief in me has driven me to want to deliver for them and to make them proud of their investment in my career."
She recommends that those starting out do their research, be intellectually curious and challenge themselves to expand their horizons as they consider career paths.he suggests that they network to find out information about different sectors and industries, but also so they have different examples of how to achieve success as there is not just one path.
Regarding her responsibility to mentor and sponsor women and Hispanic/Latinos she says, "We have to reach out to the next generation and remember what it felt like to be new and unsure of your next step or how to complete a project for someone you really wanted to impress." This is particularly important when it comes to women and Hispanics/Latinos, she noted. "We need to be visible and accessible to them in order to continue to build a diverse talent pipeline."
She urges her peers to spend an extra 10 minutes with more junior colleagues after a meeting or in their office. "To you, it's only 10 minutes, but to them it makes such a difference," she says.
Outside of the office, Vazquez-Ubarri spends her time with friends and family, including her husband and two sons. A competitive swimmer growing up, she has passed on that passion to her two children, ages two and ten, during treks to the pool each weekend – time that she makes all about being with her loved ones.