Voice of Experience: Stephanie Cohen, Managing Director, Goldman Sachs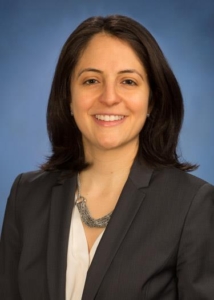 "What makes the difference between people who are good, great and world class at their job are small things, and you only find those out if someone points them out to you," says Stephanie Cohen.
"Even if you are just a little bit off at a certain point in your career, it's that much harder to get back on track, so it's vital that women actively ask for, and receive feedback."
That advice has been crucial to Cohen's success throughout her career.
As a "lifer" at Goldman Sachs, Cohen is quick to point out that even though the firm has been her only full-time employer, she hadn't necessarily intended to stay this long when she joined. But the opportunities continued to come. Her first position was as an analyst in Mergers & Acquisitions in 1999, and she was then promoted to associate in the Industrials group, where she has spent the majority of her career. She did a stint in the San Francisco office as a vice president, where she worked in M&A with a broader array of clients, until she was asked to return to New York to oversee Conflicts and Business Selection in the Americas during the financial crisis. She then became sector captain for General Industrials in the Global Industrials Group and a member of the Merger Leadership Group in the Investment Banking Division. She was named managing director in 2008 and partner in 2014.
Building a Business
Just this spring Cohen was tapped for an exciting new assignment – creating and heading a new group, Global Financial Sponsor M&A. Cohen says she is proud that her team's success in driving financial sponsor M&A for the Industrials Group was recognized such that she was given the opportunity to build this broader business across the company.
"It's really exciting to be building a team, while being an active part of the current M&A deal environment, which is once again near its previous peak," she says. "My group is able to assist clients in navigating this complex environment and achieve maximum value for their businesses."
From a deal perspective, Cohen is proud of her work on the team that helped Chrysler negotiate with the United States government in paying off its debt in May 2011. By living and breathing the deal, she came away highly impressed with how much the employees cared about the company, and the resulting turnaround and pride in the positive strides they made in relation to the quality of their cars.
Seeking Diverse Qualities in Mentors
As she has ascended the ladder, Cohen says that an important lesson she learned is to understand the longevity of your career, and how the relationships you build will help you along the way. "At the junior level, you might be immersed in a project where you are working with someone constantly, and then the project ends and everyone moves on. While you might expect the relationship to go on, the reality is that it takes effort to maintain those relationships — but it's worth it," she says. Social networks like LinkedIn give the illusion that it's easier to stay in touch, but that isn't a substitute for actively managing your network in today's transitory professional environment.
While she realizes that the financial services industry has fewer female role models, she has found it largely irrelevant in her career. "I would have really been stuck if I'd fixated on finding the 'senior woman in M&A' to emulate," she says. "Your role model doesn't have to be someone who is similar to you in every way. And furthermore, trying to figure out exactly what got someone to a particular seat isn't extremely helpful either, since that exact seat likely won't exist in its current form by the time you get there."
Instead, she recommends creating a "personal board of directors," and incorporating aspects of individual people that will help you in your career. "Thinking that a single mentor will help you to achieve success in all aspects of your career is not practical," she says. Building a network of different people whom you can go to for advice and feedback means that when you make big career decisions, you have a lot of people whose input you value.
Climbing the Career Ladder
For women starting out, Cohen recommends building a base of expertise and advises younger people to avoid pigeon holing themselves. "At the end of the day, you have to have good judgment, and be able to adapt to different situations," she says.
And again, she underscores the importance of actively seeking feedback. "If you're not getting negative feedback, it's not because you're perfect. Women might get less feedback because they don't ask for it, but it took me a while to fully appreciate that men tend to get more direct feedback on areas of improvement which allows them to know what to work on."
Support of Women
Cohen believes that women should support other women. "There are not that many of us, and we can help each other in ways that are very impactful."
She has seen that men in the workplace tend to be better at blending their personal and professional lives, and using that to create more client and networking opportunities. She believes that it doesn't have to overwhelm your personal life, but it makes the networking easier and more fun when you can build and create personal connections at the same time.
To help build those bridges, Cohen created a women's M&A event several years ago to bring together clients and other professionals who work in M&A, such as lawyers and accountants. The goal is to create relationships between those who are involved in the broad M&A infrastructure. And she reports, it has done exactly what she hoped it would.
In addition, Cohen acts as a mentor to junior women as they think about their careers, and she stays involved in recruiting and retaining a core group of female analysts. "Keeping top-quality women is vital," she says.
Making a Difference Outside of Work
Outside of work, Cohen spends time with her husband and young son, who "helps me hone my negotiation skills," she laughs.
She is also on the national board of the nonprofit group Reading Partners, which focuses on literacy in grammar schools, helping underprivileged kids who are behind in reading. She was first involved with the effort when she worked in San Francisco, and brought it with her when she came back to New York. She helped the organization to secure financing for a local chapter, and the group has since spread nationwide.
"The organization does great work very efficiently. The fact that we are working on literacy lends itself well to testing, so we are able to ensure the efforts are successful," she says. The program is self-sustaining in that schools pay for it with money set aside for a literacy specialist.
"If you can't read, you can't succeed. Teaching a child to read will fundamentally change his or her trajectory in life."