Voice of Experience: Janet Visbeen, Partner, PwC Netherlands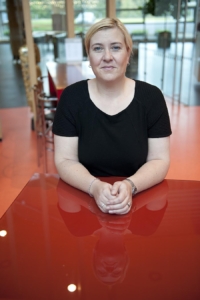 For PwC Partner Janet Visbeen, her status as a lesbian professional benefits her career. "If you are open about your diversity, you offer a unique selling point that others don't," she says. "My orientation colors how I think about the world and gives me some depth. It helps me be visible and defines my personal brand. Anything that makes you stand out is a blessing in this industry."
Visbeen's entire career has been spent in the consulting industry. Universities in the Netherlands are business-focused, so Visbeen studied economics business administration, focusing on the tax side, which provided a clear path to either an accounting or a law firm. With her interest in working in an international environment, she joined Coopers Lybrand (which ultimately became PwC), with a short stint at Arthur Andersen after six years. Her next move was to start her own company with some colleagues, but she realized after a few years that despite the positive experience, she had always had the urge to be top notch in her field, which necessitated returning to a larger firm. She rejoined PwC and one year later became partner focusing on the firm's executive reward design and delivery function.
Being part of an international network of firms has led Visbeen to her belief that many of the issues in the world today can better be solved by big international companies than governments. "Advising clients on how they can improve their performance and seeing where the companies fit within society is a balance that keeps me energized in my work," she says.
For Visbeen, helping advance the careers of those on her team and contributing to their success has been the achievement of which she is most proud. But she also believes that business will succeed because of the "power of one."
In her view, approaches today are theme based. "We will offer our clients an 'Ocean's 11' approach where we staff a team with the best people for the job from within or outside of the firm, and then when the job is done they part ways."
Growing Your Career
Visbeen believes that women need to advocate for themselves, because although they might have great achievements, they don't always communicate them.
"I find that women tend to talk about 'we' instead of 'I,' but in a corporate world where you have to continually compete, it's vital to get the story out there that you are the best person for any particular role," she said.
Interestingly, she finds that while most women consultants are tough when it concerns their clients, they don't bring that same tenacity and self-confidence to promoting themselves.
She believes women must be clear about what they want and go for it. "To be successful in business, you have to rely on yourself and your own compass. If you do that as a free thinker you add more value to your clients."
A Culture of Acceptance
Visbeen has always appreciated the openness that the professional services industry offers for LGBT individuals. "This field attracts well-educated people, and though they might not be more open minded, they deal with it differently." In fact, she believes that LGBT offers a unique selling point as a consultant. "Your diversity can be an important tool to help you stand out."
Of course, she acknowledges, you have to be comfortable with yourself, and while gender or cultural diversity can't be hidden, LGBT orientation can be private. However, as she says, "The consulting business requires more than regular office hours. Do you want to work somewhere where you can't be yourself? Everyone has to answer that question for themselves." For Visbeen the answer is clear. She believes that respecting coworkers is what brings out their best, so an open environment is a requirement.
She sees the issue as one that offers two clear choices: you might not be universally loved if you are open, but you are able to have deeper relationships. She characterizes it as "brand or bland."
"There will always be some people for whom you who won't be their cup of tea, but the others will love you for it."
Visbeen has been active in Gay Lesbians and Everyone Else (GLEE), a strong PwC network that reaches beyond the firm to include others in its gatherings. As a business network, it blends networking with advocacy. "As a global network of firms, it's part of PwC's DNA to make sure that it is as safe to be an LGBT consultant in Amsterdam as it is anywhere in the world. It's what we stand for."
In addition, Visbeen takes that advocacy outside the workplace as a member of the Netherlands Committee of Human Rights Watch. "Economies that have a lot of wealth can take care of human rights and social issues. In economies where there is less wealth, there is less well-being. I believe they go hand in hand."