Voice of Experience: Paula Arrojo, Managing Director and Private Wealth Advisor, Investment Management, Goldman Sachs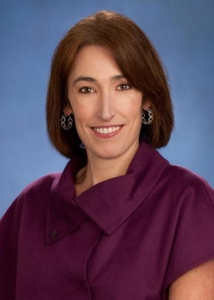 The Glass Hammer is celebrating Hispanic Heritage Month by featuring profiles of Hispanic Women Business Leaders all week long!
"Throughout my career, I could have taken the easy road, but I'm proud of myself for accepting a challenge," says Paula Arrojo, managing director and private wealth advisor in the Investment Management Division at Goldman Sachs. "If you have good reasons to want to do something different or innovative and the risk is well articulated, Goldman values that ambition and desire to move forward," she says.
Arrojo's career in finance began when she was fresh out of college and took a position in the private wealth department of another large firm. After this exposure to private banking, she decided she wanted to add to her skill set in the technical aspects of the industry — she completed an executive MBA program at Wharton and has been in the wealth management division of Goldman Sachs ever since.
Though she always knew her destination, her road to success has been paved with a lot of hard work. "One aspect of the PWA role at Goldman Sachs is to seek out and acquire new clients. This can be challenging and frustrating, especially in the early years. Staying focused, working hard, seeking out support and mentorship and using your network wisely are all keys to building a successful business.
Risk Taking Pays Off
A turning point in Arrojo's career came when several members of her team left and she was offered the option of joining another team or building out the one she was on. While moving to another team would have been the path of least resistance, she recognized the leadership opportunity inherent in staying and got to work developing her team.
It was a smart move building those skills. Recently she found herself in a similar spot, and together with a partner, is currently creating the second largest private wealth team in the New York office. They are working to create a platform that will maximize each member's skill set and allow them to hone in on what they do best. "The whole will be greater than the parts. Building out this team will be a multi-year process and will impact the next phase of my career at Goldman."
Arrojo takes a long-term view of her career, and she believes the whole industry is heading that way — focusing on being true advisors rather than "transactionists."
"Finance is moving in a direction where advice and strategic long term thinking is valued. And since that's how my team has always approached our business, I believe we're well positioned for growth."
Diversity as an Asset
Being Latina has helped her in her line of work she says, offering her early career opportunities since Spanish is her first language.
And unlike many careers, she views her gender as a benefit as well. She finds that the client set can be more diverse in her specialty than some other areas of the industry, and she says that the advisor population mirrors this diverse client set.
But Still… a Lack of Role Models
But even though there are more women, there are not enough. Arrojo laments the lack of mentors at the upper levels, acknowledging that the numbers dwindle at the more senior ranks. And it's a loss, because the lifestyle challenges only grow over time
"I think that junior women need to have a forum where they can hear from senior women how they balance their family life. You don't always have the opportunity to have that conversation often enough."
Advice from the Top
Arrojo says it took her 10 years to figure out that you have to couple hard work with self-promotion. "Women often expect that if you work really hard you'll be noticed and rewarded. But they need to realize how important it is to let the right people know what they're working on and what they want next – what team, what clients."
Though Arrojo is very much in charge of her career now, she says that she wishes she had known earlier that you need to advocate and find opportunities for yourself. "If you want to go for it, you have to position yourself to have that credibility. Had I known to be more strategic in this area earlier, I would have saved a lot of time getting to where I am."
She says that men have more apparent confidence and because of that they get more opportunities early on. And the more opportunities they get, the more experience they have. "Soon enough the gap is real and not just perceived."
And for those who have attained career success? Arrojo's advice is to stay challenged.
She says that the danger of just doing the same thing every day — even if you're doing it well — is that people come to expect it and therefore don't notice or reward it.
"It's important to stay crisp and in focus to stay relevant. You want people to know that you're not just doing your job, but taking it to the next level. Doing something new also opens up networking opportunities as you get exposure to other people and sharpen your skill set."
Arrojo serves as a mentor to many junior advisors. One of her current mentees is a perfect fit — a woman who just had a child, which allows Arrojo to help her think through the issues, using her own experience as a working mother. She is also committed to helping women identify opportunities to grow their business more quickly and raise their profile internally. Over time she has identified women who were new to the PWA role and helped focus their business development strategy.
Outside the office
With two kids and a stay-at-home husband, Arrojo relishes the gift of flexibility that gives her, knowing the kids are well taken care of.
It also allows her to spend time on the board of a program called Building Educated Leaders for Life which works with lower-scoring schools in urban areas to help close the gap.
"It's important to have something like that outside of work and family, and I feel good knowing that this work will pay rewards that I can't imagine."
And in many ways, her advisor work is similar — investing time in her clients for their future rewards. "I feel very fortunate to have the position I do, as a trusted advisor to lots of families who look to my team to advise them on one of the most important aspects of their life."
By Cathie Ericson