Voice of Experience: Kim Posnett, Managing Director, Goldman Sachs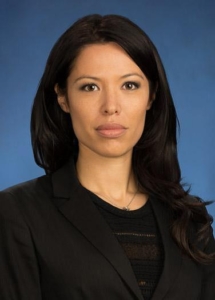 Welcome to The Glass Hammer's Celebration of Asian Heritage Month! All month long we will be profiling successful women here in the US who have Asian heritage as well as spotlighting some amazing women in Asia and discussing what it means to work there.
According to Kim Posnett, a Managing Director in the Technology, Media and Telecom (TMT) group in the Investment Banking Division at Goldman Sachs, diversity is something she became accustomed to early on in her life. "I was born in Nashville, Tennessee and raised in New York City. I grew up as an American kid in multi-ethnic family with a Vietnamese mother and Swiss father," she explained.
"I was always comfortable being different. More importantly, I grew up with the instinct to bridge gaps and find commonalities among different people. That has carried over into my professional career and has been very helpful," Posnett added.
Career in Investment Banking
"I had a non-linear career path," said Posnett, who attended Yale University to study History and Theater. After graduating Yale, Posnett moved to California in her early twenties to work in the media and entertainment industry. Then, in her late twenties, Posnett decided to make a career shift, and attended The Wharton School of Business to study finance and earn her MBA. After graduating from business school, Posnett joined Goldman Sachs. Early in her career, Goldman Sachs asked her to cover internet and eCommerce companies, which she has been doing ever since. Posnett noted, "I am fortunate to work with the leading internet, eCommerce, software and technology companies that are disrupting their industries through innovation and technology." She finds that working with visionary founders, CEOs and CFOs is the most rewarding aspect of her job, and is something she has remained passionate about throughout her decade of working as a banker in the industry.
"I feel most proud when I know I have earned the trust, respect and loyalty of my clients," Posnett added. "I am also incredibly proud of our Goldman team's commitment, integrity and singular focus on helping clients, and helping each other."
The pace of innovation in internet and eCommerce is exciting for Posnett, who enjoys working in a dynamic sector that is undergoing fundamental shifts. "We are entering a post-PC era," said Posnett, "where consumers can transact anytime and anywhere off their mobile devices. Companies are leveraging data and analytics to drive personalization and relevance for their customers. Powerful interest communities and vertical content companies are changing the way people browse, discover and shop online. There's much more — it's a very exciting time."
According to Posnett, there can be misperceptions about what a career in investment banking actually means. "I don't think young people grasp how interesting and dynamic investment banking can be," she explained, "especially in technology banking, where our clients are entrepreneurs who are changing the world as we know it. The job can be incredibly entrepreneurial and creative."
Women in Investment Banking
"I think it is really important for young women to figure out what they want in life. Everyone has a different definition of happiness and success," said Posnett. She explained how lucky she was to have her parents as role models. "They both loved what they did for a living, and as a result, they always encouraged me to pursue what I loved most," she added.
"The challenge, of course, is figuring out what you love, which can be difficult for people early in their careers," continued Posnett. "The key is to figure out what you want, stay true to yourself and fight for what you believe in," she explained.
In terms of career advice, Posnett noted that "the most successful people I know are very intelligent, but – more importantly – have incredible work ethic and drive, and they are never satisfied. They always want to be better. So, my advice is to find a profession you love, work hard and work smart. Always be prepared. Have high standards, and go the extra mile." There are two important lessons that Posnett has learned during the course of her own career. "Don't underestimate the importance of relationships," she said. "Our clients want to do business with people that they trust and respect."
The second useful lesson that Posnett learned early in her career is the understanding that most situations do not have simple black and white solutions. "Giving thoughtful, long-term oriented advice to clients is often nuanced. Most situations in life that matter – professionally and personally – don't have simple black and white answers. You have to be comfortable with uncertainty, complexity, and change," she advised.
A Commitment to Women at Goldman Sachs
Posnett talked about a program at Goldman Sachs that launched in 2008 in which the firm committed $100 million to help 10,000 women grow their local economies and businesses by providing them business and management education, access to mentors, networks and capital. In 2014 Goldman Sachs expanded the program in a partnership with The World Bank to raise up to $600 million in capital to support 100,000 underserved women entrepreneurs globally. "I am very proud of the work that Goldman is doing to empower women all over the world," she said.
In terms of programs within the company that support career advancement, Posnett encourages young women to find what works for them. She is an advocate of mentoring and sponsorship – both formal and informal – and explained that she has benefitted from many men and women who had taken her under their wing at Goldman Sachs. "Our business is very much an apprenticeship model, so I'd encourage young women to find their mentors and teachers," she added.
Posnett observed that mentoring relationships do not always occur with people who are more senior than you. "You can learn a lot from the younger generation," said Posnett, "and it is important to view mentoring relationships as reciprocal – there is definitely a give and take. My mentees have been incredibly valuable to me."
Outside the Office
Posnett noted that she was a competitive gymnast growing up, so fitness, health and wellness have always been important to her. "I spend a lot of time doing yoga and running outdoors." Posnett also spends as much time as possible with her husband and family. "My husband and I moved to Brooklyn ten years ago. There is a youthfulness and energy to the borough, plus an artistic spirit and overall diversity, which we were drawn to." As part of her commitment to Brooklyn, Posnett recently joined the board of the Brooklyn Public Library.
By Michelle Hendelman