Voice of Experience: Minal Patel, Managing Director, Managed Services Business Development, SunGard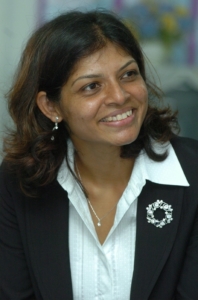 Minal Patel, a Managing Director at SunGard, started her career in banking at Barclays Bank in the UK over twenty five years ago. At Barclays, she had the opportunity to participate in an accelerated training program that rapidly moved her through various areas of retail and wholesale banking. Although she had the chance to experience different aspects of the industry, Patel ultimately decided to explore career options outside of banking.
"I joined a technology startup that was looking for business expertise to build a treasury management system. I was able to apply my business background, which in turn exposed me to IT operations and the entire software development lifecycle," said Patel.
She continued, "This experience led me to another tech startup focused on derivatives trading and risk management. I switched gears to focus on the sales and account management side of the business. We were a new operation in Europe, with a very small team, so I was involved in everything from pre-sales support, getting in front of prospects, contract review and working with customers. After a couple of years I decided to transfer to the New York operation to focus on that market. All of this was great experience for building my career."
When the second startup was acquired by SunGard in 1998, Patel stayed on board and has been with SunGard ever since. She attributes her longevity at SunGard to the fact that she has been able to adapt and take on different roles within the company. "It has been exciting to have the opportunity to do a number of different things while remaining at the same company," noted Patel.
Her Work at SunGard
During her tenure at SunGard, Patel's responsibilities have spanned from running a global client and professional services team (around a set of trading and risk solutions) to taking on a horizontal role focusing on expanding SunGard's global development and delivery capabilities.
Over the last 2 years, her role has been focused on further developing the managed services business within SunGard Financial Systems. Patel partners with each of the Financial Systems business groups to shape business and operational plans that will advance their managed services agenda – and grow the company's overall managed services portfolio. "Figuring out the best ways that we can evolve as a company alongside the industry – and our clients – is one of the most exciting things about my job," said Patel.
"I am really excited about the opportunity we have to provide even greater value to our clients through managed services. Our managed services solutions allow clients to rely even more on SunGard to help them deploy and consume SunGard's software solutions and services to reduce their risks, lower their total costs and optimize their business processes and operations. It's very exciting for me to be a part of all that. And with SunGard's global scale, industry domain expertise and intimate knowledge of our own mission critical software, we are really well positioned for success in this area."
Striking a Balance
Patel advises women to aggressively pursue growth opportunities early on in their career, especially if they know that having a family – and raising kids – is going to be part of their future plans. If your company recognizes your value early on, you'll have more options to chart a course that gives you the work/life balance that you need at various points in life – without compromising your overall career trajectory. Patel asserts that the demands of life are not constant.
There will be times when you may want to slow down the pace of your career in order to focus more on family or other priorities (e.g., pursuing higher education). Likewise, there will be other times when your career becomes your priority again (e.g., when your children are older and more independent). That's okay, according to Patel. The key is to establish yourself early on so you have the leverage and reputational footing to control the pace of your career.
She added, "Think of your life like a race, and learn to vary your speed based on what is going on in your life at that time." This is especially important for working mothers, according to Patel. "I put a lot of pressure on myself to juggle many things, and so you have to always put things into perspective to strike that balance," she explained. Aligning yourself with a company that reflects your values and offers you the support you need as you advance in your career is a key component of success, according to Patel. "Finding the right company that emulates a culture that is supportive of women is so important," she noted, "and it all goes back to having a strong support system in place that allows you to thrive professionally and personally."
At SunGard, the Women's Initiative (WIN) group is one of four active SunGard Employee Resource Groups (ERGs). WIN's charter is three fold: give women greater visibility and development opportunities; create formal and informal networks to help women advance their careers at SunGard; and build external networks to support revenue creation and growth. WIN membership started with just women at SunGard but has since expanded to everyone, and we're proud to see that it's visibly supported by a number of our executives – both men and women.
Patel lives in New York City with her husband, son and daughter.
By Michelle Hendelman