Voice of Experience: Wanda Hill Managing Director, BK University, BNY Mellon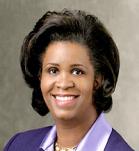 Wanda Hill, managing director of BNY Mellon's BK University, entered the financial services industry by way of the marketing and communications world. It was a somewhat unusual entry point, but one that has served her well over the course of her career. Hill was recognized as a Woman of Distinction by the Girl Scout Council of Greater New York and in 2006, named one of the 25 most influential women in business by The Network Journal. At BNY Mellon, she oversees learning and development for the company's Investment Services businesses, which generate approximately $10 billion annually. Previously, as part of the Investment Management business, she was responsible for maximizing cash-related revenue from the company's institutional businesses, which included product development for BNY Mellon's global cash investment platform.
When Hill stepped into her new role in October of 2013, her first goal was developing a three-year strategic roadmap.
"When you step into a new role at a mature company there's always the challenge of putting your institutional knowledge to work, while at the same time being open to very different approaches and the nuances of each strategic business," Hill said. "It's a challenge, but I enjoy it."
Currently, much of Hill's focus is on the overall learning and developing strategies tied to what the company refers to as the "investment life cycle" where expertise, innovation, and intellectual capital is necessary to support and sustain BKU as a world-class learning organization. BNY Mellon's employees are located in 35 countries and 100 markets, with the Investment Services business alone comprised of eight major businesses. Hill regularly meets with those businesses to identify how the company's virtual university will support their business models today and into the future. "I love to build these strategies and relationships," Hill said.
BNY Mellon's Impact
BNY Mellon continues to intensify its focus on diversity and inclusion. In an effort to attract and retain diverse talent and create an inclusive workplace, a number of employee-powered resource groups were launched, including IMPACT in 2008, which is geared toward the company's multicultural employees. Hill serves as Global Chair for IMPACT and is conscious of the group's approach outside the US.
"We're a global company and IMPACT has chapters around the world. Outside of the US, our focus is diverse employees because 'people of color' doesn't really translate in other parts of the world. Creating inclusive workplaces is such a part of the fabric of BNY Mellon and being a part of this work means a lot to me," Hill said.
Advice from a Leader
Hill advises people starting out in their careers to speak up more. The managing director says she was often hesitant to speak up, which meant sharing her ideas – no matter how great – was a challenge. Eventually, she realized that if you're not speaking up and pitching your ideas, you're not fully contributing and that, she says, isn't beneficial to you or your employer.
"As diverse people, we have a lot to contribute. We bring a new perspective to the table and it's important to share that," Hill said.
She also recommends that women be deliberate about their choices and plans.
"It's important to take the time to reflect," Hill said. "Think about where you want to be next year. You don't have to map out an exact plan, but if you can be deliberate about your intentions it can be powerful."
Hill also asserts that interactions with people are important and the way you conduct yourself in the workplace makes a difference.
"You never know who's watching your development; your behavior could be elevating your peers or getting you on the radar of the senior leadership team. So, how you conduct yourself is so important. You can work hard, but sometimes there are things that will get you noticed that you're not expecting," Hill said. David DeFilippo, BNY Mellon Chief Learning Officer, describes, "Wanda is a role model across the organization for building relationships in order to deliver solutions. She sets a high bar and as a result elevates everyone's game."
Bridging the Gap
Hill says her ultimate ambition is using what she's learned over the course of her career and applying it to her community.
"I'm proud of my achievements and I'm at a point in my career where I can also make an impact in my community," Hill said. "A lot needs to be done in my community, there is a large gap between the haves and the have-nots, and I want to use what I've acquired to help others achieve."
By Tina Vasquez, Editor