Voice of Experience: Julie Harris, Managing Director, Goldman Sachs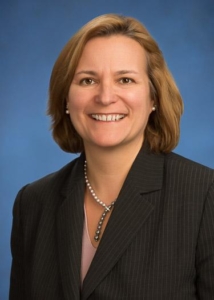 Welcome to Pride Week on The Glass Hammer — we'll be profiling successful LGBT business women all week long!
Julie Harris, Managing Director at Goldman Sachs, had a master plan when she entered college – or so she thought. "I come from a blue collar family," said Harris, "and while my parents have always been incredibly supportive, they did not have a lot of advice on career choices, so I picked a major that seemed challenging and figured I would get a good job. That was my mental model."
Harris decided that she was going to major in Computer Science and get a job programming. This trajectory probably would have served Harris very well had she not determined in her senior year of college that while she was very interested in applying technology to business problems, she did not love programming.
It was at this juncture that Harris first tapped into a bit of profound professional wisdom. Harris said, "It was the first time I made the distinction between knowing what you can do and are good at, versus knowing what you love doing." She adds, "This is something I have thought a lot about throughout my career when making choices. When you follow passions instead of just capabilities, it can be the difference between good and great."
Although Harris had just spent four years preparing to graduate with a Computer Science major and enter the workforce as a top notch programmer, she was unwilling to settle. So, instead of heading to a traditional programming job, Harris decided to apply her technology background in a burgeoning industry at the time known as consulting.
"All the big accounting firms started building consulting arms because clients wanted total solutions." Harris continued, "I started working at what was then known as Arthur Andersen, which became Andersen Consulting, and is now Accenture, in the Management Information Consulting division." Out of the nine years Harris spent there, she only focused on programming for two of those years, ultimately moving to business analysis roles which focused more on application of technology to business problems .
Even though this experience formed the foundation for Harris' professional career, she gleaned much more from her time as a consultant. Harris explained, "The great thing about a firm like that is that it taught someone who didn't have professional experience how to be structured and disciplined, essentially how to be a professional."
If Harris was going to continue to be a key player in the corporate arena she knew she had to familiarize herself with the business landscape in order to successfully navigate it. Although her knowledge of business, particularly in the financial services sector, was limited, Harris was not deterred. Instead, this motivated her to enroll in the MBA program at the Kellogg School of Management at Northwestern.
Paving Her Own Path
After completing her MBA, Harris was ready to take on the world of big business. Graduating from business school with nine years of work experience sounds like it should be an advantage, but at that time companies were looking for candidates who had not quite climbed the ladder to middle management yet.
Harris, a non-traditional MBA grad, fittingly went down a non-traditional path when she accepted a position at a start-up consulting firm that combined her experience in technology and business. She said, "The whole purpose of this firm was to create pragmatic business strategies that were technology enabled." She continued, "I got to be part of building a firm from the ground up." Harris was a pioneer at the firm in several ways. She was in the first class of MBA hires to come into the firm, the first person hired off campus to make Partner, the first woman to make Partner, and the first woman to become pregnant while holding a senior level position. Harris said, "Working at a smaller firm was a very complementary experience to my more structured experience at Arthur Andersen."
Though she had no master plan or intention of getting involved in financial services, Harris became the Relationship Manager at her firm for Goldman Sachs despite her best efforts to steer clear of the industry. For Harris, the environment and the people matter more than the industry in which she works. She explained, "The culture of teamwork is very important and I have had that in all three firms I have worked at, in very different ways." She continued, "The microelements of the culture were different, but the commonality was a respect for teamwork."
Little Victories
Julie Harris admits that the milestones in her career thus far, such as making Partner at a consulting firm or her first day as a Managing Director at Goldman Sachs, are certainly memorable, but it is the day to day achievements that stand out in her mind as making the most impact in her professional life. She said, "If I look back at the timeline of my career, the moments I am proudest of are where a project really came together or a team worked together to create the best possible solution – the types of shared success that sets multiple careers on new trajectories."
Harris' emphasis on teamwork is something she has carried with her throughout her career. She also attributes a lot of her success to her propensity to run toward the challenging projects when others are running as fast as they can in the other direction. "When everyone zigs and you zag, you can get into some pretty interesting situations," says Harris, "I like taking broken or neglected areas and making them better."
Perhaps it is this same positive attitude –that no obstacle is insurmountable –that has helped Harris excel in her career. "You can't transform things if you aren't willing to take a little personal risk and help support others who are perhaps a little more risk averse," said Harris.
Evening the Playing Field
For Harris, working primarily in male-dominated industries has certainly affected her worldview when it comes to women in business. She said, "I never had a lot of senior level female role models until I came to Goldman Sachs, so I had to be that senior role model." She continued, "You have to learn that the way you carry yourself matters, and you can't lose sight of who you are in the process."
In stepping up to the plate to lead young female executives through the gauntlet of gender equality in the workplace, Harris had to take a step back and remember that she needed to take care of herself as well. Mentorship has played a big role in Harris' career and she has worked hard to take advantage of the opportunities to continue that cycle by being an active mentor and sponsor as well.
Her active involvement in the LGBT network at Goldman Sachs is just one way that Harris pays it forward. She acknowledged that one of the challenges faced by the LGBT network was encouraging women to participate. "No one wants to be a double minority," she said. "When we changed the programming of the LGBT network to be more about creating dialogue, career development, and opening the doors to straight allies, that is when more lesbian and bisexual women started joining the network."
Harris recognizes the challenges that exist for women in the workplace, but she has personally never let gender equality issues stop her. "I've always picked industries where I knew I would be judged on my performance and where you got by on what you delivered."
Lessons Learned
Motherhood has been one of the most enlightening experiences for Harris. "For me, becoming a parent gave me so much perspective about what is really important," said Harris. "Before being a parent, I was much more insistent on being in control when managing projects, whereas now I feel like people cannot learn unless they stumble and fall." While being a parent presents new work life balance challenges, she feels her own perspective on what really matters has been sharpened. "I am much more efficient, and more willing to delegate" said Harris.
Harris has also been able to check the personal accomplishment of finishing a marathon off her bucket list, completing eight in total. Like everything that she does, Harris gleaned important life lessons from running these races. Harris said, "I learned a lot about mental toughness and that your brain is the most important muscle. It carries forward and you apply this to life and work."
If there is one trait that stands out about Julie Harris, it is her humility and her gratitude for the little gems of advice she has received throughout her career. And for her, the best advice came from one of the most unexpected places. "When I made Partner at my second firm, I had a young associate approach me and tell me to never forget where I came from. He said, you came from humble roots, you probably never thought you'd make it this far, but you did and that's inspirational. Don't ever leave that part of you behind and don't ever pretend to be anything you are not because it's what makes you special."
Harris cannot stress enough the importance of sticking to your roots when it comes to paving your personal path to success. She said, "Be genuine and be authentic. There's a lot of good karma that comes from being a good person."
By Michelle Clark (Keene, NH)