Voice of Experience: Kathy Elsesser, Managing Director and Head of Global Consumer Retail Group, Investment Banking, Goldman Sachs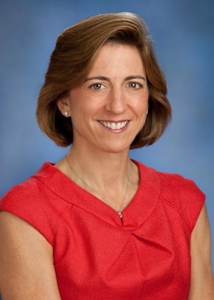 Kathy Elsesser, Managing Director and Head of the Global Consumer Retail Group in Investment Banking at Goldman Sachs, speaks enthusiastically about the opportunities for women in the financial services. She believes that women can achieve their full potential by being authentic and thinking carefully about what they want in life.
"Know what you want and ask for it. I have noticed a tendency on the part of the women I mentor to take what they're given and do well with it. But the question I try to ask them is 'what do you really want?'" She continued, "Ask for the things that will help you get that – versus accepting the things that are presented to you."
And that mindset can benefit women throughout their career – from the entry level all the way to the top. She encouraged women to think carefully about how their skills and talents could be best leveraged at work. "Especially for women who decide to have a family, I would encourage them to think every day about how they are spending their time. As you get older, you begin to realize that time is a limited resource."
She continued, "When you have a new project, think about whether this is important, or whether, if you personally do it, it is going to have an outsized return relative to someone else taking it on."
"I really see women take on what they are given rather than asking whether it's the best use for their time. If someone else can do it, give it to them and find a higher and better use for your time."
Career Path at Goldman Sachs
Elsesser graduated with a bachelor's degree in arts and sciences and joined Goldman Sachs in 1989. She said, "I had a lot of learning to do in those first two years."
Eventually she decided to leave the firm for business school, and after graduating from Kellogg with an MBA, she returned to Goldman Sachs in 1993. She described her career progress as "not particularly planned." She explained, "I came into my career through the support of other people and through my own intellectual curiosity. I found new opportunities and navigated through the system in that way."
"I was a generalist when I came in," she recalled, "but then I decided to move into a product role, becoming an expert in leveraged loans and high yield bonds. I wanted to leverage my finance knowledge."
She continued, "I wanted to be an expert. I thought it would give me more confidence to know the markets and structured products so I could best help our clients. I liked the product side – and it did give me a lot of confidence and presence and presentation skills."
"For me, a lot of times as the only woman in the room, being a product expert and having all the facts was very powerful." But, she continued, she also felt the product side did not cater to all her interests. "After executing a financing for a company, you didn't get to follow them and be a part of what happened next."
For example, one of the companies she worked with was Lululemon, a company that designs athletic clothing and gear. "When I first got introduced to Lululemon, it was a $120 million company – it was tiny. But I recognized something so unique about it, its products and its approach to the consumer. And one of the things I like most is the ability to help the entrepreneur translate their story in a way that is meaningful to investors. It was so gratifying to be able to be a part of the company's IPO and watching it continue to do well, including its global expansion."
"Today I run the Global Consumer Retail Group," Elsesser continued. One of her proudest achievements has been taking the group truly global. "When I took over the Consumer Retail Group, it was mainly domestic. Now it's amazing how connected we are globally and how much of a benefit we can bring to our clients because of that. It's very satisfying."
Currently Elsesser is enthusiastic about her work with Bright Horizons, a company that provides in-house childcare services to Fortune 500 companies. "It's best in class, and Goldman Sachs is a client. It's a huge benefit, not just for women, but for entire families. Five years ago, we took the company private and now we're taking it public again with a broader suite of services like elder care, to help support families through the entire life cycle."
Women and Perfection
"Everyone should read the article Debora Spar wrote last fall on 'Why Women Should Stop Trying to Be Perfect,'" Elsesser continued. The struggle to achieve an ideal image of womanhood (powerful career, nice home, perfect family) is actually holding women back, she suggested. "I think she's onto something. We have to be perfect mothers, great corporate executives, look good, eat well… there is an ideal today of a woman who can't possibly exist every day. We're trying to do it all without as much of a network of support from family and friends as previous generations had. I thought that article was so dead-on – we need to dial it back a bit and our partners need the support and opportunity to pick up the slack."
She has also begun thinking more carefully about the differences between women and men at work, and how those differences can benefit the business. "When I grew up in business, it was 'women and men aren't different,' and 'if you want to be successful, you've got to act like a guy.'"
"But I am beginning to see that as complete and utter nonsense!" she continued. "Women should be exactly who they are. You can modulate your message, but you have to be true to yourself. Find ways that work for you to communicate and be successful. It takes a lot of energy to be someone you're not. At the same time, organizations need to evolve so they can hear women, appreciate their perspectives and give them leadership roles."
Those differences can benefit the client as well. "Women can showcase their interpersonal skills – I think people appreciate that, and clients appreciate that. The majority of clients just like smart people, and if you're a good listener and you're empathetic on top of it – in a client services business, what more could you ask for?"
"What's important in the long term is for women to be happy and successful, and also that we reach a dialogue that we are different, and that's totally great." She added, "I also think we need to engage senior males to be better receptors of a different way of communicating."
That difference in communication styles is something that can still trip women up at work, Elsesser continued, but it doesn't have to be that way. For example, she said, "I don't think that women are as comfortable telling others about their achievements. But I also think senior men need to reach down more and give women a chance. It might seem unnatural to them at first – they're used to people banging on their door and asking for opportunities. Women are more used to waiting to be called."
She also encouraged junior women to take more risks early in their career. "When you're young the cost of failure is a lot less, but you learn just as much."
"And this is integral – I tell this to people on my team and I also tell this to my kids: leave it better than you found it, whatever you do. Whatever you are, a partner, a managing director, an analyst – be part of the dialogue and find ways in your role to improve it."
Women at Goldman Sachs
Elsesser said that while Goldman Sachs has a slew of programs to support women's advancement at the company, she is particularly enthusiastic about a program that has been reinstated recently.
"When I was more junior we did a quarterly or monthly lunch for women – junior, senior, everyone. It was just two hours, and if you were busy you could pop in and grab a sandwich, or you could just stay and meet people. There was no agenda, and it was so low key and so social. And it was a great way for me to start to get to know a lot of women – and senior women who became mentors to me over time."
"I find those informal sessions to be the best," she continued, and encouraged junior women to take advantage of them to seek out mentors proactively. "One of the mentors I've had, I didn't work for him, I just knew he had a reputation of being an honest, straightforward guy. So I asked him to do research on me, and if he thought I was worth it, to mentor me. He had a huge influence on my career."
In Her Personal Time
Elsesser, who has three children (ten, eight, and seven), said, "There is nothing more important to me than my kids. One of my girlfriends said this to me – and it's true: 'you are only as happy as your least happy child.'"
"If you want to have a family and a career, you can absolutely do it. But you need to really communicate to your kids. They don't know anything but the reality that you are teaching them. It's important for you to set the tone about your priorities."
"If I raise three good citizens, that's what matters," she added.
By Melissa J. Anderson (New York City)