Voice of Experience: Laura Sanchez, Managing Director, Private Wealth Management, Goldman Sachs
One of the most important lessons Laura Sanchez has learned throughout her career is the importance of being yourself.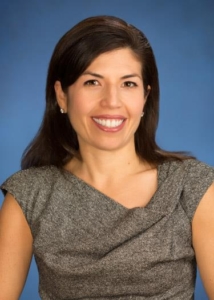 Sanchez, now a Managing Director in Private Wealth Management at Goldman Sachs, found that by allowing her unique personality to shine, she was better able to connect with clients, which ultimately helped her career.
"When you're new – and I had also switched industries – you may be anxious about fitting in and looking like everyone else or acting like everyone else. But trying too hard to fit in can stifle who you are."
She continued, "To not be yourself for the majority of your day creates a lot of stress."
Ultimately, she says, authenticity was her key to a more fulfilling career. "When I've been true to myself and let my own light shine through, that's when I've been my best. That's when I think the success started," she explained.
Career in Private Wealth Management
Sanchez, who grew up in a small town on the southwest boarder of Texas, began her career working in consumer packaged goods before earning her MBA at Stanford. "I made a career switch because I was looking for a position that would give me the opportunity to build relationships and I wanted a more dynamic atmosphere."
She found that opportunity at Goldman Sachs 18 years ago and has been with the firm in Private Wealth Management ever since. "It's the perfect mix of building relationships in a dynamic, fast-paced environment."
"In the job that I have now, it's somewhat unique. You can do the same job from the time you're an associate to managing director. Of course, over time you take on more responsibilities, but the core is the same. I feel very fortunate that I get to do this job that I love, and yet continue to grow and develop in new ways."
Sanchez says one of the most rewarding aspects of her job is helping people be philanthropic. "Most of the clients I work with have significant wealth, and people in this situation are generous and want to be philanthropic. But they don't always know how to do that. I work with them to help them give that wealth away by structuring philanthropic entities and connecting them with other philanthropists and non-profits that align with their values."
She continued, "I have the opportunity to get to know clients in a very personal way and I can see the impact of their giving on society. I know that I have helped shape that in some way."
Currently Sanchez is spending a lot of time working with clients on their ultimate estate plan, particularly with the potential changes to tax law. "We are helping clients incorporate finance, tax, and law with their personal family values. I have the opportunity to build deep relationships with my clients and really get into their lives. I know their children, siblings, and parents."
"I'm working with people as their most virtuous selves and that's really rewarding."
Women in the Industry
Sanchez says that Private Wealth Management is a great field for women. "In the industry right now, there's an incredible focus on private wealth, and more and more firms are getting into the business. It's built on trusting relationships which is something I think women excel at."
The more women in the industry, the better, she said. "I think for me it's really about having critical mass. As a full-time working mom, once you have that critical mass of women, the barriers don't seem that high."
The critical mass idea counts doubly for Hispanic women, she continued. "There just aren't that many of us, and we have to reach out and support each other."
She continued, "At the same time, I try to use being different to my benefit. I work in the Bay Area, and in Silicon Valley, there are more and more women entrepreneurs building their own wealth. It's a changing dynamic, and many of these women want to work with other women to manage their wealth."
She encouraged junior women to stay in the workforce if they have children or get married. "The most important thing is that we convey to women to do whatever is required to stay in the game. Don't drop out."
"I see a lot of women early on, when their life circumstances change and they think they can't do both. It is really hard to be a working mom in the early years. But we need to encourage women to stay. Once you drop out it's really hard to get back in," Sanchez explained. "It's an investment, early in your career, to have help at home or childcare, and it can be expensive. But you'll get through the hard times and there are huge benefits on the other side."
She also emphasized the importance of networking with other women. "In our Goldman Sachs office in San Francisco, we have a local women's network across divisions. It's really important for women to engage with other women across all levels of the organization – and we have a flat organization at Goldman Sachs so it's easy to do that."
"Connecting women is important for keeping women engaged and in the job," she added.
Mentoring
Sanchez is enthusiastic about mentoring and said a mentoring program at Goldman Sachs has been one of the most valuable experiences she has had. "Five years into my career, I was paired with a senior mentor – it was through a program for high performing women."
She continued, "Sometimes these relationships work out and sometimes they don't. And I was paired with a senior white male. I was admittedly very skeptical, but I was wrong."
The mentoring relationship, which continues to this day, has provided her with valuable information and advice, she explained. Her mentor really invested in her development, and more importantly, she said, he gave her confidence.
"As women, sometimes we second-guess ourselves, or don't compare ourselves favorably to others. But he showed me that I was doing well compared to my peers and that gave me confidence," she explained. "And with that confidence, success came."
In Her Personal Time
Sanchez, who has two sons (aged six and three), also cares for an aging parent. "As a working mom, it's a lot to balance. But I know that what's most important is my family. I feel very fortunate that I am able to blend the two."
She explained that many people feel pressed to separate work and family life, but, she continued, "I've found that combining them has led to better relationships at work."
Having served on many non-profit boards in the past, she realized that people's involvement in the community changes over the lives of their children. "With young children, sometimes you have to scale back in other parts of your life. I think balancing family, career, community, and still managing to make time for yourself is the magic quest."
This week The Glass Hammer is celebrating Hispanic Heritage Month with profiles of senior Hispanic women in the financial and professional services. Check back all week long to read more.
By Melissa J. Anderson (New York City)