Voice of Experience: Nicole Pullen Ross, Managing Director, Mid-Atlantic Region Head, Private Wealth Management, Goldman Sachs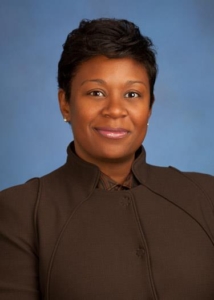 "We all have the responsibility to be advocates for more junior women," said Nicole Pullen Ross, Managing Director of the Mid-Atlantic Region for Goldman Sachs' Private Wealth Management business.
"And it is a greater responsibility behind closed doors than when in the presence of the people we are mentoring." She explained, "That advocacy means really pulling someone up behind you in a proactive way, the same way others have done for you."
A Career in Investment Banking
"I almost fell into a career in investment banking," Ross recalled. "I grew up in a small town in Virginia and attended Hampton University, where I studied accounting." After a summer internship with her father, she said, she realized accounting wasn't for her. "I was attending a career fair, and a recruiter stepped into my pathway and started talking to me about Wall Street. And from then on, it was exactly where I wanted to be."
Ross joined JP Morgan as an analyst and three years later went to business school at Columbia University. She became a summer associate at Goldman Sachs in the Private Wealth Management business, and "I've been here ever since," she said. Currently the head of the Mid-Atlantic region, her team advises families and institutions on more than $20 billion in assets.
"If you ask my friends and family what they are most proud of in my career, they'll tell you that it's the fact that I'm the first African American to become a managing director in the Private Wealth Management business at the firm," she said.
"But actually, what I'm proud of is what happens every time I help a family or institution find a solution. When we do it well time and time again, that collection of accomplishments is really when I'm most proud."
Ross said that currently she is working to deepen and build new relationships with clients across her region, specifically in Washington, DC and Philadelphia. "The growth has been exciting, particularly through challenging economic times."
She added, "The opportunity to help develop new advisors to best meet client demands is also an exciting part of how I'm spending my time lately."
Staying Confident
Ross said she wishes she had learned to have more confidence in her abilities earlier in her career. "When I started as an analyst on Wall Street, I looked at all the businesses in this industry and perceived the risk involved. I was too intimidated to put myself on the front line."
She continued, "But, I was never shy about seeking mentorship, and asked for guidance from people at relatively senior levels in the business. They really helped me focus on the simple side of achieving results – that's what Wall Street is all about."
This realization gave her the confidence to pursue a high impact career, she said. "I think I could have wasted less time in the pursuit of my passion if I had the confidence and understanding earlier."
Women in Private Wealth Management
Ross believes that women are particularly well suited for careers in private wealth management. The business has evolved over the past 20 years from one that was transaction oriented to one that is holistic and focused all of the needs of families and institutions. "Women tend to do quite well. Clients choose to work with us because they trust our advice. I think a common character trait among women is our ability to listen and identify, understand, and solve problems for our clients."
She added, "I also believe women like the flexibility that goes with running our own business as well as the ability to have strong, deep relationships with clients."
When it comes to challenges, she continued, "Sometimes the common interests that men often share can be a hurdle – whether it's talking about sports or meeting on the golf course, sometimes relationships will naturally develop for men in ways that they don't for women. But that just means we need to be creative in developing those relationships in other ways."
Ross said she has given advice to many junior people throughout her career, and, for her, it always comes back to passion. "I just tell people to find their passion and pursue it."
She explained, "If you can find that thing and are fortunate enough to be able to pursue it in your career, then everything else tends to fall into place."
Ross was enthusiastic about the efforts Goldman Sachs dedicates to attracting and retaining women. "The firm does so much on this front that the list of ways I've benefited is long," she explained. "The thought and infrastructure dedicated to helping women navigate their careers, create and leverage their networks, and feel supported is tremendous."
She continued, "I can point to a laundry list of relationships I have because of the targeted development initiatives to engage and retain diverse talent, particularly multicultural women."
In Her Personal Time
"The most important thing to me is my family," Ross said. "We focus on the quality over the quantity of time together. My kids are great, as is my husband, and I try to make sure they remember they are the priority. If there is a play or event I miss after school, I make sure they understand why, and that they are most important to me."
Additionally, she continued, she is deeply involved in education-related initiatives. "I'm a founding board member of Girls Prep Charter School, one of the first all-girls public charter schools in New York," she said. "And I'm also an alumna of the Toigo foundation and continue to be involved with that organization."
By Melissa J. Anderson (New York City)